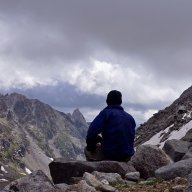 Joined

Jun 14, 2016
Messages

265
The first time I backpacked in the Wind River Range was in 2001 and I was hooked. 2018 will be my 16th summer visiting. This was a pivotal hike for me as a backpacker. I arranged my first backcountry resupply, which enabled an unbroken stretch of time without any outside contact. I also reached a high level of comfort with remote, rugged solo off trail travel. This fantastic hike was the start of an ongoing series of longer and longer trips into the Winds backcountry.
My routes are pretty casual. I knew where and when I needed to be to get the second 9 day food load. Other than that fixed point, I could follow my whim. A line through the Wind River Roadless Area was really attractive. My gear during this summer was as light as I ever went. The pack was a frameless 50liter that weighed 2lb. My trailhead load was right around 30lb including about 4lb of photo gear. I found the pack uncomfortable overall even at lower weights and have rejected the frameless type for most of my uses. The rest of my gear has changed very little. I still use the same style 1lb floor less mid shelter, ul 32deg bag and sneakers.
Launching from the popular trailhead in the south west I headed north to the west of the divide. It takes a bit of walking in the timber before the views open. Within a few miles I met a fellow who had left his companions and was self evacuating after rolling a large rock over his foot above Donald Lake. His big toe was the size of a kiwi and split wide open. Made me think about my own safety traveling alone without an electronic safety net. I have no problem turning if I find myself feeling the need. Part of what I like about backpacking is having complete responsibility for my own wellbeing without recourse, but this plan was above and beyond me experience. Paying attention would be critical.
I crossed over to the east side using the pass that I had chosen on my first visit here based on its being labelled 'not suitable for livestock' on the map. The trail was left behind at the base of the pass and I headed off into new terrain.
I made camp 2 just below tree line and gathered my confidence for the challenges to come.
My route was over the second notch from the right.
Talus, lots of talus. It was slow going as I made my way down. The weather started to spit rain about half way. The first lake had no nice camping so I continued dropping through the wet brush to the next, where I found a well used outfitter site. I set up off to the side. In the evening I fished near the outlet catching many smalls.
The next day I was over a gentle pass into a large basin with many lakes. I planned to stay a few days and explore around.
I left my load and hiked up higher. As I returned rain began and I rested under the cover of a dense tree. Upon leaving and relocating the old unmaintained trail, to my surprise, I met an older solo woman. I don't see many women out by themselves, especially way out like this. I recognised her right away and knew she had a lot of experience. Guidebook authors usually do. What else do you do when you meet up in remote county? We pulled out the maps and talked for a few.
A couple days and passes later I was approaching the lake I intended to camp at before another divide pass when I saw a camp. It was Nancy again. Turns out I had been following her for days. The night before we had camped at the same lake, but she had was on the backside of a peninsula from me and we did not see each other. We ate together and talked about big passes and remote country until she shooed me off for bed before dark. We were headed in the same direction and in the morning I thought to join her. I made my cup of tea and went over towards her camp at 6:30a. To my surprise she was throwing on her pack, ready to go. She deigned to wait as I tossed my gear together quickly. It was a beautiful morning as we moved upward. At the top we rested together and then she moved on. I just love hanging at the crest of passes and I was in no rush so I stayed for another hour before descending into the next drainage.
It was time for me to drop down to get my resupply, way down. It was nice to be low for a bit, though I did not see anybody. I met my food without issue still miles away from the trailhead. I was feeling great and ready for more.
To be continued...
Last edited: