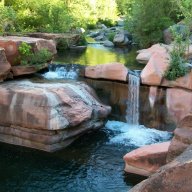 Joined

Aug 1, 2020
Messages

68
This hike is a rugged hike into a deep entrenched canyon with a stream and some deep pools you must swim.
This hike is in a tributary of, and is at the headwaters of West Clear Creek, Arizona. Much of this is in a designated wilderness area. The hike is mostly an off trail scramble and boulder hop down through the canyon bottom along a stream bed. There is some fighting through brush and some thorn bushes involved that you should avoid if possible. This is a long day and pretty rugged but the payoff of scenery is well worth it.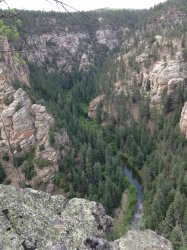 This hike should only be done in warm weather since you will get wet and you should use dry bags to keep your stuff dry. You should never enter this canyon if the weather forecast is for rain because flash floods could happen and be a great danger. If you are not in decent shape don't try this because it is a long strenuous day and there is no way out but to do the whole loop once you pass the fist few swimming holes. It is a one way loop hike that takes between 7 to 9 hours depending on how fast you can go. There is a stretch of about 3 miles od dirt road that must be hiked or you can do a car shuttle or stash a mountain bike like I did at the Maxwell Trailhead. I recommend you first do a day hike into Maxwell Trail to get an understanding of where the trail out is, because if you miss it at the end of your day you will be stuck in the canyon overnight and not know if the way out is upstream or down stream. So for safety scout it out in advance to know the exit point of the canyon.


Park you car at Maxwell Tank and walk east from the road past or around Maxwell Tank. I went around the right side of the tank.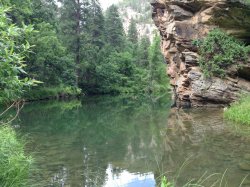 You will have to get over a barbed wire fence and find your way down into the drainage or wash on the other side. Once in the bottom of the wash or drainage, turn right and head down the small canyon. I found there to be lots of Locust plants with sharp thorns as well as some wild rose. So this part scratched me up a little, but if you are careful you can probably get through without much damage. Near the bottom of this side canyon you will encounter a series of dry falls or drops. I was able to find ways to climb down or around each of them without too much difficulty. After this you will reach the bottom of the main canyon of Willow Valley. It takes around 45 minutes to get to this point. I found the bottom of the canyon to be dry and boulder filled at this location. You turn right or downstream and begin to boulder hop or climb what I thing was south. After just a short distance you will come upon the first of a series of deep pools that you have to get through.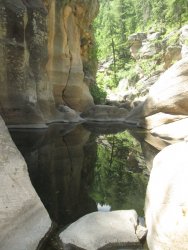 You might be able to find a way around some of them but the easiest way is just to swim through them (they are too deep to wade).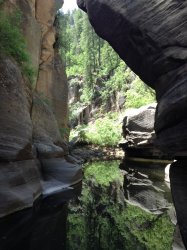 At least one of them there is no other way but to swim. And on one of them I found no easy entrance other than to jump off a small drop into the water. Once you do this there is no going back.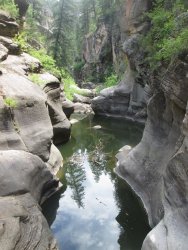 After this there are no more deep wades, so if you've used a flotation device to keep your pack dry, you can put it away. I personally just used dry bags inside my pack. I also bring a water filter so I don't have to carry a full days worth of heavy water. Downstream from here there is a stretch where the canyon bottom is full of large boulders and rocks.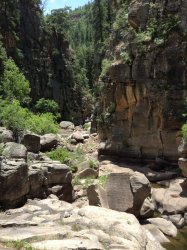 So you boulder hop and route find your way down the canyon. After a while of this boulder hopping you will start to see pools of water again but nothing you have to swim.
There are some sections where there are willow thickets you have to fight through. The easiest way appears to be to stay in the water at these locations. After a good distance of this the canyon begins to open up and you start to see running water.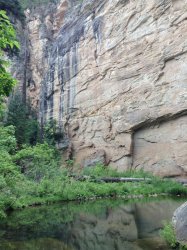 And soon the canyon bottom becomes more open and flat and filled with grass and brush. You will find a few locations where you will have to wade across the stream and sometimes the grass makes seeing where your footing is supposed to go difficult. After a while you will find there are some short sections with paths or trails up out of the drainage in some forested areas.
The farther you go you will find some actual sections of decent trail through the pines on benches along the canyons edge. Finally you'll reach the confluence with Clover Creek, which comes in from the left. This is a very important land mark because you exit point is around a half mile down stream from here. From this junction down you are now in West Clear Creek and in this area you will find some nice large still pools and some places where people have camped.
You could always just come down Maxwell Trail and just go a little ways up stream and camp. And then return back up Maxwell Trail. And just take it easy and enjoy this remote wilderness at your leisure. If you stay overnight be reminded that there may be bears in this part of the canyon, but I have never seen any.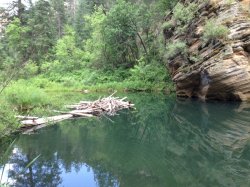 From the Clover Creek confluence stay on the right side of the stream going downstream because you exit is on the right and you don't want to miss it. There are more big still pools and great scenery as you go.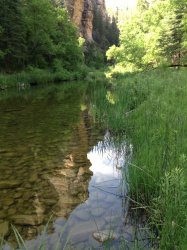 After about a half a mile, just before a prominent side canyon enters from the right and the main canyon bends left, you should see some cairns and a well used trail which heads up the slope on the right (north). This is your way out, called Maxwell Trail #37. From here you will start climbing and it becomes steep with some switchbacks in places. It is a pretty good climb that takes you up to the rim of the canyon. At the top you find a West Clear Creek Wilderness Boundary sign and a trail register and parking area. If you have spotted a car here or a mountain bike like I did, the hike part of the adventure is over. If you did not do the car shuttle or stash a mountain bike you now start the walk along the forest service roads back to your car at Maxwell tank. It is about 1.5 miles down the road to the junction where you turned of to go to Maxwell Tank. Turn right at that junction and walk the remaining 1.4 miles back to Maxwell Tank and your car.
To get to the trail head at Maxwell Tank You turn west off Lake Mary Road between mile markers 297 & 298. This is a few miles northwest of the Highway 87 intersection at Clint's Well or Happy Jack. I believe there is a sign for West Clear Creek. It is Forest Road (FR) #81. Follow FR #81 for 3.1 miles then turn left onto FR #81E. After driving 3.8 miles stay left (continuing on 81E) at the junction with FR #693. After another 0.5 miles you'll arrive at the junction with Maxwell Trail Road. To spot a car, stay right at this junction and follow it 1.5 miles (ignoring any faint side roads) to the signed trailhead. To reach the trailhead, turn left towards Maxwell Tank. After 0.9 miles a road will come in from the right (stay left), you will reach Maxwell Tank after another 0.4 miles.