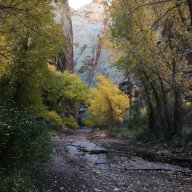 Joined

Mar 27, 2015
Messages

172
A couple of weeks ago I got my first chance at an actual packrafting trip. After doing a lot of research I decided that the Willow/ Davis Gulch loop looked like the best option. After giving some of the details of the trip to my brother, he also decided to come along. The plan was to meet up in Escalante where we would head down Hole in the Rock Road to drop our vehicles off at the the beginning and end points of the trip. It had been so long since I had been down Hole in The Rock Road that I forgot how long drive it was from one end to the other. After shuttling the cars around, we made our way down Willow Gulch.
After getting down into Willow Gulch, we ran into an older gentlemen working his way back out of the canyon. We stopped and talked to him for a few minutes and then headed on our way. It wasn't to much longer until Broken Bow Arch came into view. It was impressive to see in person.
Looking back at the trail.
After we made our way past the Arch, we then tried to make our way down the canyon by avoiding one small pool in particular. After looking into a couple different options, we decided that the best option was to go through the small pool anyway. After we made it through the pool we continued hiking long enough to find a good spot to set up camp for the night.
We spent some time that night debating where the water level would have been if Lake Powell had been at full pool. We thought we had seen some water marks, but nothing definitive. We got up the next morning packed our stuff and made our way towards Lake Powell. The big question of the day was how much further would we have to hike due to low water levels. We stopped for a short break at a small waterfall to take some pictures.
After the waterfall we found our first definitive water mark
Based off of this water mark we figured that our camping spot would have been under water at full pool. As we got closer to the lake the canyon opened up. There was really only one spot that the mud was bad, and luckily it was a pretty short section. We did run into another group of packrafters that was headed up Willow Gulch after running down the Escalante River from Fence Canyon. They said they had pretty good success until the end when they ran into a bunch of mud and silt. It was only a few more bends until we reached the lake.
We got the packrafts inflated and headed on our way. With the low water levels it didn't take very long to reach the mouth of WIllow Gulch. After we made it out to the escalante arm of the lake the wind picked up. We only saw three boats the entire time we were paddling. I then turned around to see and canoe off in the distance making its way towards me. The canoe was making pretty good time across the lake. They caught up to me no problem. We talked for a few minutes before they headed on their way. As fast as they appeared, they disappeared around a bend. Even with the wind we still made much better time over to Davis Gulch than I was anticipating. We could have taken a much more leisurely pace.
We sat for a little bit to let the boats dry. Next stop was La Gorce Arch.
We then stopped early for the day and relaxed.
In the morning we made our way up and out of Davis and headed back to the car.
The trip was a great success. I am even more hooked on packrafts now. It has opened up a bunch of new possibilities.