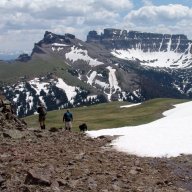 Joined

Sep 17, 2014
Messages

638
WILDFIRE SEASON 2022
inciweb.nwcg.gov/
Despite rain and snow around the Flagstaff, AZ area the virtually 21,000 acre Tunnel Fire continues to burn with just 3% Containment.
inciweb.nwcg.gov/incident/8068/
New Mexico has considerable acreage burning right now in multiple fires and among other places I believe the Philmont Scout Ranch has once again been evacuated.
I have been slightly encouraged here in Greater Yellowstone with respectable April precipitation and a friend in Northern California reported 4" of rain a week or so ago. There is a fair number of prescribed burns taking place across the country. Nonetheless with a hot and dry summer forecast right now we can't by any means expect conditions will improve much from last year if at all. Just like with temperatures and precipitation in the West a "NEW NORMAL" is here for wildfire considerations.
Folks, please feel free to share any information here. Hope for the best but prepare for the worst.