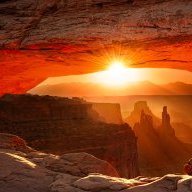 Joined

Feb 17, 2015
Messages

51
Last year was a disappointing year in the travel department for me. I had planned to go to Canyonlands at the end of March for two weeks, but in February ended up hospitalized for six days (a fricking TORTURE to be confined to a hospital bed that long) followed by a extended period on heavy antibiotics, so I canceled that trip until ally health dilemmas were safely behind me.

A second trip, to Yellowstone and the Tetons to see the eclipse, was set to go when just before I was to leave my car ended up needing major work. This delayed the trip for a few days, but while waiting on the repairs I got word that there was a possibility of layoffs later the year, so I canceled the trip in a panic, in order to save money, then regretted it a day later after all my reservations were canceled. Post-panic, I hastily put together an itinerary for a week in South Dakota at Wind Cave National Park, which was okay, but what I really had needed was to be back at my beloved Yellowstone, backpacking in the Lamar Valley, hiking in the Slough Creek area, etc..

Then in December I was putting together an itinerary for a trip to Canyonlands and Zion, when I abruptly got laid off. (On a side note, losing your job, even one you liked and planned to stay at, is not a disaster, and can turn into a blessing in disguise, as I think will be true of me).

Now my game plan is that when I am offered a new job, I'll say "Thanks, I'll see you in two weeks" and then hit the road for a 3-4 day Jeep tour of the White Rim (I NEED to get back to my beloved Canyonlands). I did this once before, but my trip was too short, only three days and two nights, partly lost to a rain delay that caused sections of the road to be temporarily closed on my departure day. Although I enjoyed it, I wish I had planned for more time for the trip since I ended up being mobile for too much of that time and didn't get to take side trips to Lathrop Canyon or Taylor Canyon.

This time I really want to do it right, and have a great travel experience to make up for what I missed last year, so I am asking for feedback from those in the BCP community who have done the White Rim on what things to see and how to make the best of this trip. I'll go to Lathrop Canyon and Taylor Canyon, of course, but what else is on the White Rim that would enhance my trip - what are the must-see sights or must-do experiences I should plan into my itinerary? With that information I am going to put together a smashing itinerary and then just wait for the opportunity to materialize.

Muchos gracias.