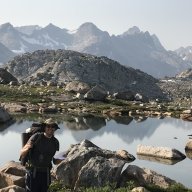 Joined

Mar 1, 2015
Messages

522
I am planning on mountain biking the white rim road over 3 days in mid-October. We already have the permits, and will bring a support vehicle. My main concern is with the driving, not the biking. Nobody in my group has ever driven on a jeep road before or anything requiring 4WD, so I have the following questions:
Is this a beginner-friendly road (assuming the weather has been good, we rent a suitable vehicle, and we take it nice and slow in the hard parts)? I've read wildly varying reports on the difficulty level and beginner-appropriateness---some people say it's extremely easy, while others say it's extremely difficult. One nice thing is that since we will have several people on bikes, the bikes can go on ahead of the vehicle during the narrow sketchy parts, to make sure we don't run into anyone else coming the opposite direction.
Does this truck look like it will be suitable? http://cliffhangerjeeprental.com/tacoma-pickup/ It looks cheaper than renting a jeep, and will fit our 4-5 people plus gear comfortably. Any recommendations on what features to look for in a vehicle, what emergency equipment to bring along, or where to rent a vehicle?
My understanding is that the driving difficulty depends mostly on recent weather. We will only do this trip if the weather has been good and the road is in good shape. Is it likely that the road will be in bad shape in mid-October? I know that's impossible to predict, but if there's a 50/50 chance of us having to cancel at the last minute, I'll just cancel right now to avoid buying the plane tickets.
Thanks in advance for any info! Also, if anyone has any recommendations for must-see side trips or any other tips to enjoy the WRR, please let me know. We will be doing this in 3 days, clockwise, with 30-35 miles each day.