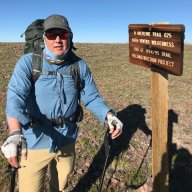 The mountains are calling and I must go
.
Joined

Mar 31, 2013
Messages

1,024
So I got my White Rim permits last week.

I'm going 6 days / 5 nights starting May 30 (Memorial Day).
I realize this is quite a bit longer than most people do it, but
I want to see and do all there is.

In reading about side trips and looking at images, I've come up with a few
questions I'd like some help with. I don't think my understanding of the
relative topography is very good, so please forgive me if ask something
really dumb.

1. Is the trip down Lathrop to the Colorado worth it? I notice there is a road and
trail. Is one better than the other?

2. Can one approach the Washerwoman / Monster Arches from the White Rim Road?

3. Can one get to Mesa Arch from the road?

4. Does the hike to the Miner's Camp from White Crack have a lot of exposure?
How much time should I set aside for this? Is going down all the way to the river
worth the extra 4 miles? I've got a very short biking day planned on day 3
(White Crack -> Murphy Hogback = 6 miles)to be able to do this hike if need be.

5. I'm also planning on doing hikes down the Holeman slot and then hking to
Upheavel Dome. Are there other sites / top priority things to see & do along
the White Rim Road?

Thanks for your help.
Last edited: