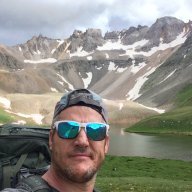 Joined

Mar 1, 2016
Messages

400
Went on an overnight backpacking trip with my brother and his two sons to beautiful White Pine Lake in Logan Canyon on June 3rd. Trail starts at Tony Grove lake and is 3.8 miles.
This is White Pine Lake with Mt Magog.
This is a beautiful but all to popular lake that gets really crowded in the summer so it was nice to enjoy early in the season before the crowds hit.
We were able to find a couple of snow free spots to pitch our tents. Trying out my copper spur UL1 for the first time.
The lake was covered with ice mostly but both ends were ice free so we were able to catch a few brook trout.
The next day was a beautiful sunny day. It was amazing to see how much the ice melted from when we arrived on Friday afternoon to our departure on Saturday afternoon.
Here is another shot of white pine lake and Mt Magog from the end of the lake.
And here is a shot of the lake with Mt Gog.
And last but not least a parting shot of the hike out.
In the summer this is a beautiful hike loaded with people and beautiful wildflowers. The lake has designated backpacking campsites and a nice clear spring that comes out of the ground down by the lake.