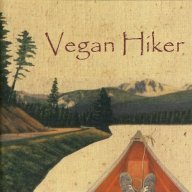 Joined

Jul 5, 2014
Messages

2,099
I injured my ankle pretty bad from running about 2 months ago. I was in a boot for almost a month and I'm getting physical therapy 3x week but finally got the green light from the doctors to start hiking again. So I went on my first trip of the season last weekend. Weather blocked me from my initial plans down in VA, so I ended up driving north to the White Mountain National Forest in New Hampshire. I had planned on a Thu-Sun, 4 day trip, but I exited Saturday afternoon ahead of a big storm system that was about to roll through.
I won't go into all the route details and such since there aren't many northeast hikers here but I hiked up the Crawford Path to the Appalachian Trail which traverses the ridge of the Presidential Range in the Whites. Not far from the intersection of the Crawford Path and the AT, there was a primitive tent site showing on the trail map. After some research, I found out that the tent site consists of a few wooden tent platforms and a metal bear bin. So I base camped out of there and hit 3 peaks, Mt. Pierce, Mt. Eisenhower, and Mt. Jackson. I had great weather on Pierce and Eisenhower, but was socked in the clouds on Jackson on my last day.
I purchased some new equipment over the off-season but was only able to test some of it. I picked up a Nemo Hornet Elite 1P but since I was sharing the tent with my dog Lucy, I had to bring my 2P terra nova tent. I haven't received my new ZPacks Arc Haul pack that I ordered 4 weeks ago because they are built to order and a little backed up. But, I was able to test my new Enlightened Equipment Enigma 20 deg. quilt and I was very happy with it. I also got to test a few smaller items... petzl e-lite UL headlamp, Flexair disposable medical pillow, and CNOC dirty water bag. It was also my first time going cold without a stove. In a nutshell, I really loved the CNOC, it cut my filtering time way down, but need to add some adhesive velcro for the flexair since keeping that puppy under my head was like trying to hold a slippery fish. I also used my new 20mm f2.8 lens which I replaced my 10-18mm wide angle. The size and weight savings were nice but I didn't realize until using it this trip that the OSS (steady shot) doesn't work with this lens. I guess I should make sure my shutter speed doesn't drop too low and try to stay still. Aside from user error, I think the focus came out okay in most shots.
Finally approaching the ridge
Up along the ridge... You can see the weather station atop Mount Washington in the distance behind Mt. Eisenhower.
My dire wolf..
Looking back at Mt. Pierce on the way to Eisenhower.
A view of the ridge line I just came from on the way up Eisenhower.
For context on how big that cairn is... Lucy is about 85-90 lbs
Lucy was pooped back at our base camp
Last edited: