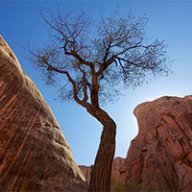 Joined

Aug 9, 2007
Messages

12,939
August 2010
I took a little solo hike to Whiskey Island Lake in the Uintas on Friday. I was planning on a larger backpacking trip but the arch of my foot was hurting pretty bad so I opted for something shorter. I was thinking this was going to be just under 3 miles round trip but I ended up driving up a really narrow 'road' through the forest that put me just under 3/4 of a mile from the lake. Unfortunately that route was stacked with huge unstable boulders making it pretty tedious hiking.
I wasn't sure if I wanted to stay the night or not so I packed for it and figured I could decide once I was there. I bought a Spot this week so I can now send a message to my wife letting her know I'm okay or that I'm changing my itinerary. Kind of makes it more feasible to leave plans open ended. I also found a coupon code online to get the tracking service free so she can see my progress in near real time. So far I'm pleased.
The wind was intense pretty much the whole time I was up there, from about noon to 6pm. The water was actually breaking on the shore pretty hard from the wind blow waves. Along with the wind came a few intense periods of rain along with plenty of thunder and lightning. I spent a good portion of the day just sitting in the tent watching it come down. I did get a bit of fishing in but casting was nearly impossible, no luck at all with the fish. I question if there are many, if any in that lake. I saw a lot of big salamanders, in the 6"+ range that made me think they were fish, but otherwise no sign of fish at all.
The weather turned beautiful as the evening rolled in and I thought seriously about staying but the lure of a beer run through Evanston was too much.

Whiskey Island Lake

Self-portrait as the weather moves back in.

This is how most of the afternoon was spent.

After the storm.

Mammatus on the move as the clear skies move in.
Featured image for slideshow: