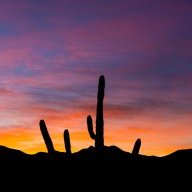 Joined

Apr 22, 2013
Messages

320
Had much needed vacation time and Utah was calling my name, especially somewhere remote.
Left home without much of an agenda, just wanted to get away from it all.
Headed up north and was at Monument Valley for sunrise. Kind of funny, usually not too many people are out and about for sunrise but there was at least 10 other people taking photos of the famous Forest Gump turn around point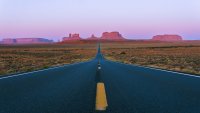 Drove just a few miles down the road when I see a silhouette on the side of the road. I jam on the brakes and pull over.
Quickly swap from wide angle to a telephoto lens as quickly as possible. It was a hazy morning looking toward the sun & I couldn't believe what I saw!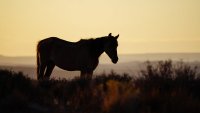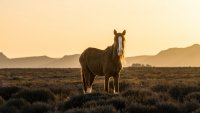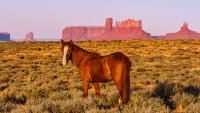 Wild Mustangs enjoying a beautiful sunrise at Monument Valley! We have Mustangs by the Salt River in Phoenix but I had no idea there were Mustangs up here.
What an amazing start to my trip...
Kept driving north up to the Hite area of Lake Powell. First hike (abit short one) was leprechaun canyon. Had to show off my Backcountry t-shirt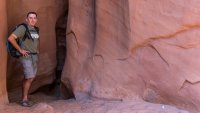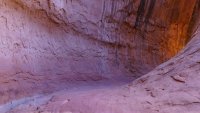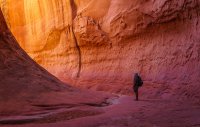 Leprechaun canyon was short and sweet but a great way to stretch the legs from a long drive.
It was time to find a campsite for the night.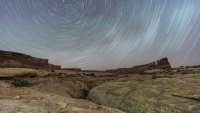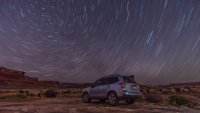 Camped next to a short slot canyon near the lake. It was a new moon so I had a very dark sky and tried my luck with some long exposures.
Made some mistakes but at least I learned a few things
Next day I hiked from the campsite to the Colorado River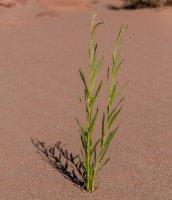 I would find lots of petrified wood the whole trip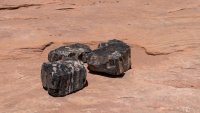 Looking over the mighty Colorado River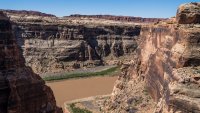 Headed back to camp and checked out the slot canyon.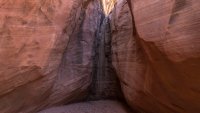 The Slot wasn't too impressive but being right next to camp made it very convenient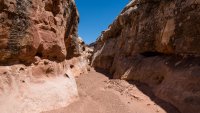 Wasn't sure where to go next... the wind blew me further north to Goblin Valley state park.
Had a great time here, would like to come back and spend more time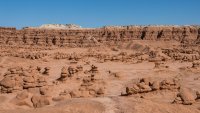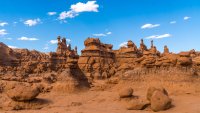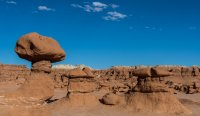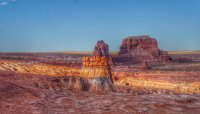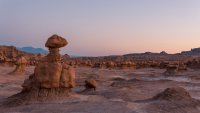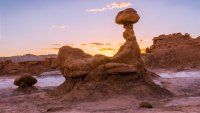 It was getting dark and time to find another camp site. With the San Rafael Swell just a few miles away I knew I could find a nice campsite.
Tried my hand at a long exposure again... one stupid plane left its mark across the sky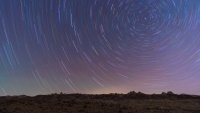 Next day I decided to hike Little Wild Horse Canyon. I had done it about 5 years ago so it was nice to go back with something better than a iPhone 4 for a camera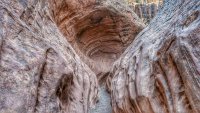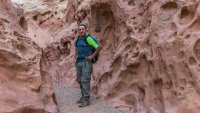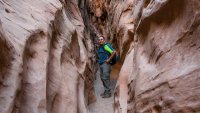 I can see why the place has become so popular... a very scenic and easy slot canyon with a paved road to the trail head. Last time I was here it was a dirt road. Oh well, I got there early and beat the masses
Having spent quite a few days in the desert the winds of change took me to the Henry Mountains. I have never spent any time in them and the cool weather seemed like a good idea. Thankfully the road was in great shape and just a little snow in the shady spots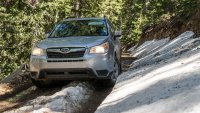 View from the trail head. Starts out at 10,500 ft so the climb to 11,500 isn't too bad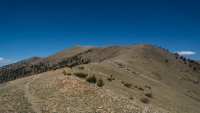 Above the tree line in no time at all!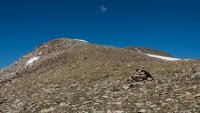 Following the ridgeline you go up and down... good workout at 11,000 ft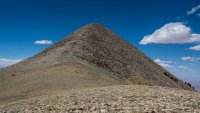 Views from the top were incredible!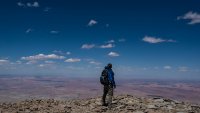 Back off the summit I ran into a large herd of deer. This one wanted to know who the crazy guy was out in the middle of nowhere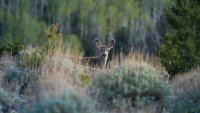 Looking back at Mt. Ellen just before sunset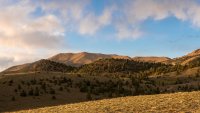 Great views of Capitol Reef at sunset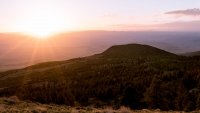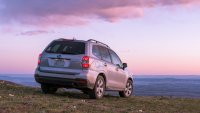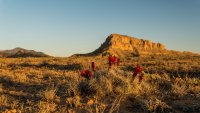 Would try my luck at some more night photography. This time of the Milky Way Galaxy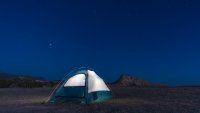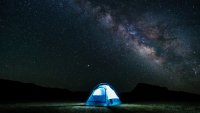 Well, I had brought my kayak with me on the trip and thought I might as well use it.... headed down off the mountain to Bull Frog and set out on the lake with my camping gear.
I've really taken a liking to kayak camping the past year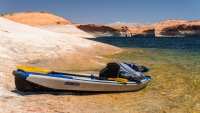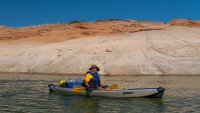 That's not a new sedimentary layer, that's Quagga Mussel infesting the lake!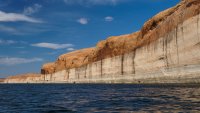 Headed out toward Smith Fork canyon, about 10 miles on way, or at least I thought. Explored a few side canyons along the way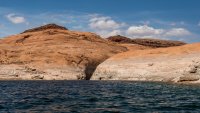 Kayak Nirvana!
Well, the weather was picture perfect for most of the day, but as I got closer to the mouth of Smith Fork the wind and clouds started to pick up
End of the lake... took one step and the mud/quick sand went straight up to my knee! Not good... Tried hiking up the canyon but gave up after 3/4 of a mile.
Not seeing any suitable camp sites I then backtracked out of Smith Fork and went back to the main channel. It would end of being a 20 mile day in the kayak!
I was a bit tired LOL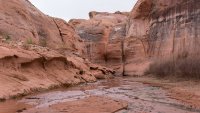 Nice light just before sunset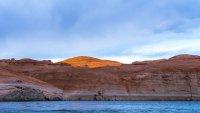 It was getting dark by the time I finally setup camp! The Quagga Mussels were so bad I had to find a spot above last year's water line to setup camp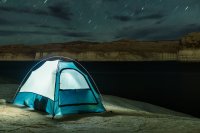 Daybreak came early after the long day before...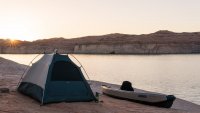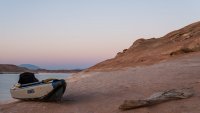 Headed back to the car that day and set out to stretch my legs with a hike. The 20 miles the day before left a mark. Would end of being 30 miles in the kayak in two days.
Had a cabin at Escalante Outfitters so I headed out to made a pitstop at Little Death Hollow along the way. One of my favorite canyons in the Escalante region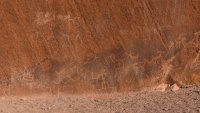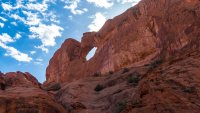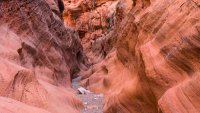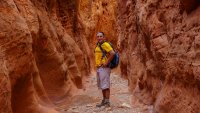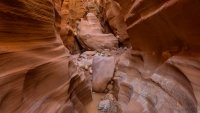 The lighting was incredible! Had to break out the American Flag for that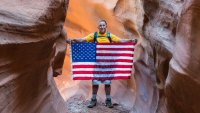 Leaving the canyon just in time as a storm was rolling in. That would be a bad place to be in a rain storm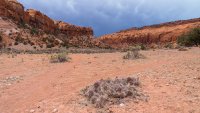 Took a day off and relaxed at Escalante Outfitters. Found a new bar in Escalante too! 4th West Pub... had a few cold ones and enjoyed the day off.
It was almost time to head home but I had one more hike left in me... Bull Valley Gorge was the last stop. It gave quite the entrance... Mud.. down climbs, pools and more mud. Did I mention lots of mud?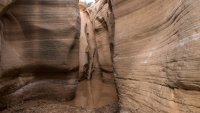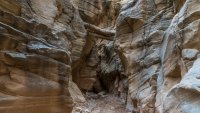 For all the mud and pools I had to endure, it was beautiful!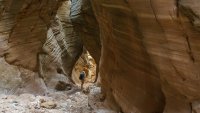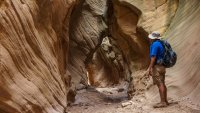 The 50's chevy truck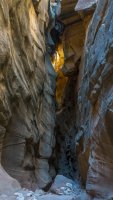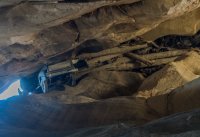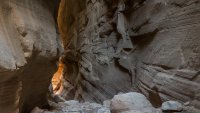 They say the best part of the canyon is below the bridge. While I do think its impressive... I continued on and found more mud!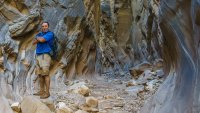 But I was rewarded with what I think is the best part of the canyon!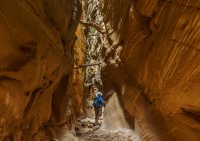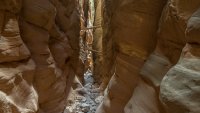 Thankfully Willis Creek is just a few miles away. Ran over there and washed up the best I could before heading home. The deepest pool was waist deep and really made a mess of things! After that I took the long way home...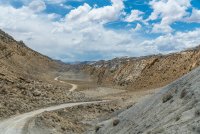 Last edited: