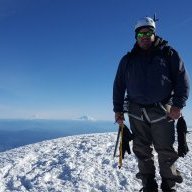 Joined

Jul 18, 2016
Messages

47
I'm looking to add another bag to my sleeping bag lineup. Or, probably, two bags over the next couple of years and retire my current one, as it is kinda heavy and I seem to be turning into a bit of a weight weeny type. I presently have a Montbell Down Hugger #1 (nominally rated at 15* in the 650 down version, weighs just under 3 lbs according to the website), which has been my 'all arounder,' I guess, since it is my only bag. I am wider than average, also, and need something at least 64" around the shoulders. I'm not sure I'm sold on the quilt idea, although I am considering one of the hybrid type things that fully zip (ie, Feathered Friends Flicker, EE Convert or something like that). But I do like hoods -- I stuff my jacket in the hood for a pillow that stays put, I like them when its cold. I'm probably an 'average' temperature sleeper -- my Montbell bag has a 24* EN rating, and I've slept in the open in about 27* in it, being none too warm, but not quite cold. I pretty much always sleep in a tent when out in the back country. Also, I don't like to sleep in a lot of clothes if I can help it, at least as a pre-planned idea. I have done it in a pinch, but pants and a down jacket is just about as uncomfortable as being chilly.

I live in SLC, so every year I have a couple high elevation Uintas trips (camping around 10k feet, usually), and a few Southern Utah spring/fall desert trips, several Wasatch Front overnighters with the kids. I'm planning either a Teton Crest or Wonderland trail trip for early fall, and would rather not tote the 3 pound bag I currently have on that trip.

Obviously I want to get the least overlap and best bang for my buck. I am willing to spend some $$ on good products that will last a long time -- mostly only considering Feathered Friends or Western Mountaineering for this next purchase.

So, what is your lineup? What do you find yourself using or not using out of what you have or had?