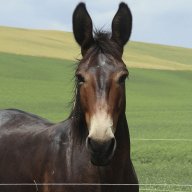 Joined

Jun 11, 2017
Messages

4,184
https://www.cbc.ca/news/canada/calgary/bear-attack-peter-lougheed-park-kananaskia-country-1.4802414
"A surprise attack on two hikers over the weekend has prompted trail closures and warnings to keep bear spray on hand.
A bear dining on a moose carcass was startled by a mother and her adult son hiking in Peter Lougheed Provincial Park on Saturday afternoon. The bear came out of the bush to the trail and charged the man twice.
Much of the area, known as Central Spray Valley, remained closed to the public on Tuesday.
On the weekend, the woman tried to use her bear spray but "she fumbled a little bit," said John Paczkowski, Kananaskis Country parks ecologist with Alberta Parks.
The bear bit both her and her spray, puncturing the container and sending the animal running off, likely in some distress, he said."
I also found this, has more details (Canucks are nice to their bears):
https://www.cbc.ca/news/canada/calgary/kananaskis-bear-attack-1.4801282
"Parks staff closed a large section of the Central Spray Valley after the attack. Dykshoorn said the reason is to give the bear, which is likely under a great deal of stress after the encounter, time to recover.
"It did get a full deployment in the face of bear spray, which could have effects for some time and could add stress to that bear," he said."
Last edited: