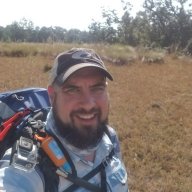 Joined

Jul 3, 2019
Messages

26
Hello

I was hoping to get some feedback on shoe selection. In regular shoes, I am usually am around an 11.5. I primarily hike in Florida (very flat terrain) and had logged a few hundred miles on the Florida Trail with some Asics trail runners (size 12) that had served me well. Last year I hiked about ~150 miles or so on the AT and found that when I had to descend, my toes would hit the front of my shoes and after a while resulted in bruising and general discomfort. Fast forward a few months later, I was going to do the Skyline to the Sea trail in California (nearly a constant descent for 30ish miles) so I went to a running store and told them about my situation and they recommended 12.5-size Altra Timps. From nearly the first hour of that hike I knew it was going to suck. The tips and bony bottom portions of my toes were in excrutiating pain. So much so that by the last day, I was hiking in my flip flops.

Now I am getting ready to hike ~75 miles in Yellowstone and have no idea what else to do in terms of shoe selection. Might I be tying my shoes wrong? Do I need to get an even bigger size?

Any help or advice would be appreciated.