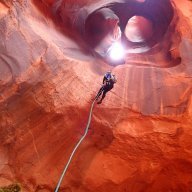 Joined

Jul 21, 2014
Messages

9
This is almost a canyoneering trip, but being multi-day and non-technical, I'm putting it in the backpacking section. A buddy and I headed up to Camp Verde, AZ to spend a couple days exploring the Wet Beaver Wilderness. I've been down this canyon several times before, though it had been more than a decade since my last visit. My friend was visiting for the first time.
We positioned a car at the Bell trailhead (a popular trail with casual hikers, since its easy and leads to a swimming hole). We then drove up on top of the Mogollon Rim and followed jeep trails to Waldroup Place. A scramble down Waldroup Canyon brings you to Wet Beaver Canyon proper. Waldroup contains 7 dry waterfalls, all easily downclimbed. There are hiker's routes around the two waterfalls that might be considered tough downclimbs.
Shortly after hitting Wet Beaver, springs fed a flow and we quickly met our first wall to wall pool.
We donned shortie wetsuits and swam across. Just around the corner, the canyon forms a series of short but scenic waterfalls.
The canyon continues in this fashion for miles. There would be long stretches of wading and rock hopping in shallow water, interspersed with extended swims through deeper pools lined with Coconino sandstone and flourishing with ferns, monkeyflower and other greenery. Its an idyllic place, and feels very remote and unspoiled. We saw few signs of other visitors.
We ended up camping about 3/4 of the way through. If you decide to do this trip, I really recommend bringing hammocks. The narrow canyon is almost wall to wall rocks. Its difficult to find a flat camping spot, and the canyon floor is crawling with insect life. Trees, however, are everywhere.
The final stretch of the canyon is the most spectacular. Wet Beaver starts to cut into the Supai sandstone (the same layer that gives Sedona its famous colors). The stretches of rock hopping grow shorter, and the swimming stretches go longer and get more and more beautiful.
Tucked away on the north wall of the canyon, we scrambled up to check out a small Sinagua dwelling.
Another few hours of rock hopping and we hit "the Crack," the popular swimming area. An easy 3 mile hike out brought us back to our car. It being memorial day weekend, hikers of all sorts were pouring in on the trail and provided diversion on the way out. The size of the coolers some of these people hike in over a 3.5 mile trail is amazing.
Here's a video of the hike: