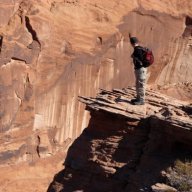 Joined

Jun 16, 2012
Messages

1,485
It would seem that I'm on a buying spree, and I keep being tempted to buy a new sleeping bag.
My primary bag is currently a Big Agnes Mystic. I love the sleeping pad sleeve because I'm a tosser and turner, but I'm not happy with the rating. It's rated at 15*, but I start getting cold in it somewhere just below 35*. That's pretty bad for a $400 sleeping bag, in my opinion. I just don't know if the problem is with the bag or with me.
So, I'm thinking about a Western Mountaineering bag. Of course, I've read nothing but good things about them, but I still want to make sure I get the right bag.
Therefore, to replace my BA bag, I think I should get something that's comfortable down to about 30. I realize that's not a big difference from the BA, but the temps I most often see in the summer seem to be about 30, and, at that temperature, the BA is getting cold. So, if I could just buy 5-10 degrees on a bag, I think I would be happier.
To that end, the Western Mountaineering Sycamore is a 25* bag that is 6 ounces lighter than the BA Mystic. While I've read that the WM bags are true to their rating, I'm a little concerned about this bag because it only has 17 ounces of fill for an entire bag, versus the 15 ounces of fill that the BA has for half a bag. I know the WM fill is a slightly higher power/quality, but does that make that big of a difference? If the WM Sycamore is 10* warmer than the BA Mystic, then I'm all in for that one, but I'm just not confident that it would be...you know, since its rating is actually 10 degrees higher...
So then that brings me to the WM Ponderosa. This bag is rated at 15* and has 13 ounces more fill than the BA Mystic. I'm pretty confident this bag would be considerably warmer than the Mystic, but it's also 3 ounces heavier. But my biggest concern with it is that, if the ratings ARE accurate, then this bag may be too hot!
I guess this is where that long-winded explanation leaves me: if the WM ratings are much more accurate than the BA ratings, then is it better for me to get the Sycamore for comfort down to 30*, or would the 15* Ponderosa be more likely to be comfortable down to 30*?
Does anyone have experience comparing the WM and BA bags?
IntrepidXJ
don't you have the Sycamore?