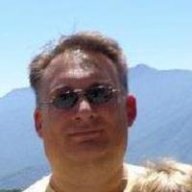 Joined

Mar 16, 2015
Messages

186
Spent the last week at West Fork Blacks Fork, after a day of getting acclimated at Bear River Campground first. Took my 13 year old son and explored the Mirror Lake Highway for a bit, and then dove into the back country for a few days.
My son decided that backpacking may not be for him; he was tired of being dirty, tired of being smelly, tired of being tired, and tired of eating backpackers food--even though this was a
much
less ambitious trip than my original plans called for. Still, we had a great time.
First post: our "altitude acclimatization day" where we scampered around Bald Mountain Pass, the Provo River falls and stayed the night at the Bear River campsite.
Set up camp and checked out the Bear River before we did anything else.
We got chased off Bald Mountain pass by a passing hailstorm, but after it blew over, we came back and scrambled around on these cliffs and at the Provo falls.
I sent Alex a bit away to give the picture a little bit of a sense of scale. The bench and ledge system right below the parking lot was a fun place to scramble and explore. Curiously, based on an old fire ring, somebody had camped on a ledge right below the parking lot not too long ago.
My radioactive green shirt. I didn't even bother to double check, but the mountain behind me is Haystack, right?
Nice view of the falls.
Getting back up from the lower falls was a bit easier said than done, but some fun scrambling. My son actually had more fun on "altitude acclimatization day" than he did in the next few days backpacking. I think the scrambling was part of the fun there. Plus, we weren't dirty, smelly, wet, or tired of the food yet, and we still had yet to spend a night in the tent...
My destination from last year; went around Agassiz to Naturalist Basin. By now the storm was completely gone and the skies were fairly sunny again.
Last year, I also spent about 24 hours in Hell Hole. It was my intention to summit Kletting, pictured here, from the other side, but from the Hell Hole basin, it wasn't clear to me which of the two peaks was the higher one. Once I was almost at the top, I realized I had gone for the wrong one, but due to timing constraints, I didn't feel like I was ready to go back down, and start over with the proper route, so the summit eluded me last year. Anyway, here's a nice view of the mountain from the other side.
Ostler, Spread Eagle, A-1 and Kletting from near the Bear River ranger station.
Featured image for home page: