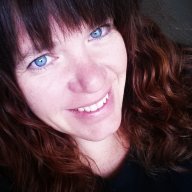 Joined

Jan 17, 2012
Messages

1,110
Preparation
I need to lose weight. I say this every time I step on the scale. I feel it every time I ride uphill. There I said it we shall see if I can do anything about this spring/summer. Goal for this trip is not to take too much food or unnecessary clothes. Expected temperatures mid 60's in the day and 40's at night.
15.5 lbs H2O (7L)
3 lbs of food
32 lbs of gear
33 lb bike
198 lb rider
Meals
Lunches: Green Belly Meals

Dinner: Sweet Potato Chicken Curry

Breakfast: Pad Thai and Coffee with Bourbon Cream (might have taken a bit too much but ya never know when someone would like some in their coffee too).

Snacks: 2 Nut Rolls, apple with caramel dip, 2 small bags of trail mix, several Honey Stinger gels, gouda cheese, pop rocks.​
Random Thoughts
Everything fit in Sarah's car a Kia Spectra, tight fit but I managed it. Cheaper driving this car than my 4Runner.

I do not want to carry a pack on my back but I really have no choice with needing minimum of 7L of H2O and warm clothes for colder temperatures.​
Location/Route/Riders
The start was in the West Desert approximately 50 miles down the Pony Express route from highway 36 near the Dugway Geode Beds. The plan to ride a 40 mile loop taking us over Colored Pass to the Geode Beds and then back to our cars. There were four of us. Three from SLC; Becka our trip leader, Bryan, Andy and me from Idaho Falls.​
Day 1
After getting our bikes ready, we started with a 2 mile climb heading east on Pony Express route. On the other side of the climb, we over shot the first right hand turn as we enjoyed the momentum of the downhill. Becka caught the mistake and corrected our progress. We followed this two track for another 18 miles before making camp. I move slowly on a fatbike loaded with camp gear. My pace is about 5 miles per hour. We left the cars at 2:30 and my goal was to be at camp by 7PM. It took me 4 hours and 15 minutes. 20 miles and 2000 ft. of elevation gain or so my Strava says. I averaged 5.4 MPH a nice tortoise pace, maybe slower than a tortoise but I made it to camp before 7!

We went about setting up camp, made dinner, and watched the full moon rise. As soon as I started to get to cold, I climbed into bed that was around 10PM. I woke up at 2 am shivering and needing to pee. I hate that. I do not want to get up, but if I don't I will just toss and turn and never really get back to sleep. I checked my little thermometer (not super accurate) it was somewhere between 40 and 32F, I would guess 35F. The moon was so bright you didn't need a headlamp to see. I should have pulled my reflective blanket out of my pack and put it between the sleeping pad and me. That was too much work. Instead, I put on my puffy and pants ate some trail mix and drank some water. This helped but still shivered now and again.​
Day 2
At 7AM I decided I had had enough tossing and turning and got out of bed. I quietly made my coffee and breakfast and waited for the rest of crew to wake up. That was around 8AM as the sun started to peak over the hill. By 9AM it was warm enough to be in shorts. The 60-degree temperatures for both days were wonderful!

After breakfast, we packed up and started the hike-a-bike over Colored Pass. Brian was the first to start and I have no idea what time but probably about 45 min before I started at 10:15. He hauled his bike trailer over first then came back for his bike. In retrospect, I should have done the same thing. Carried my bike bags over then returned for the bike. Pushing that bike loaded with gear over the pass was one hell of an upper body workout. We were all over the pass and on the other side by 11:45.

Riding after the pass was 100 times easier than the day before. When you lighten the load and have mostly a downhill ride that is to be expected. I actually made it out in front of the group a few times instead of always being the caboose. The fatbike loves downhill and gravel washes, it really loves the two combined. We cut 5 miles off our route deciding to ride straight back to the cars and then drive down to the Geode Beds. It took 4 hours and 6 min to make it back to the cars from the time I started pushing my bike up Colored Pass. Including the hike-a-bike I was still a tortoise pace at 5.8 MPH.​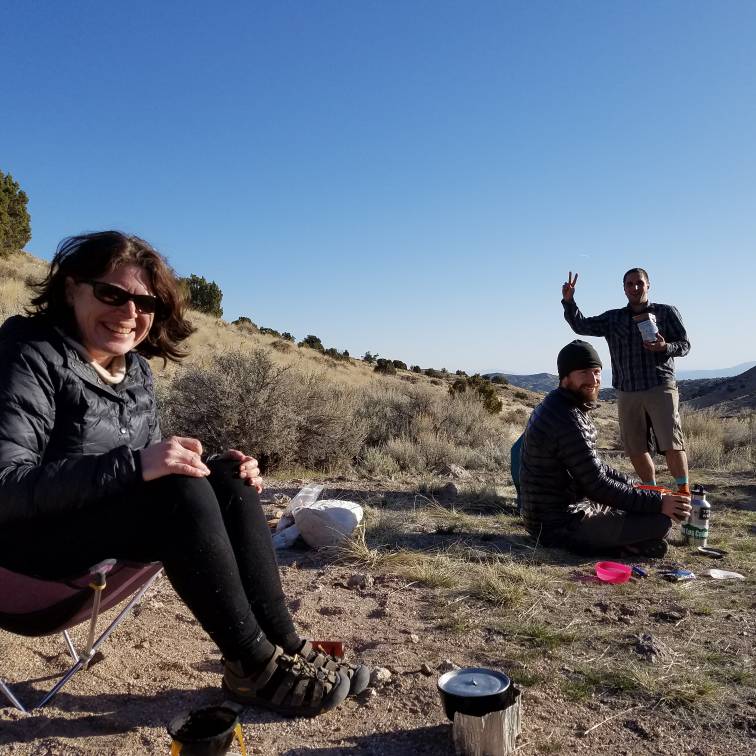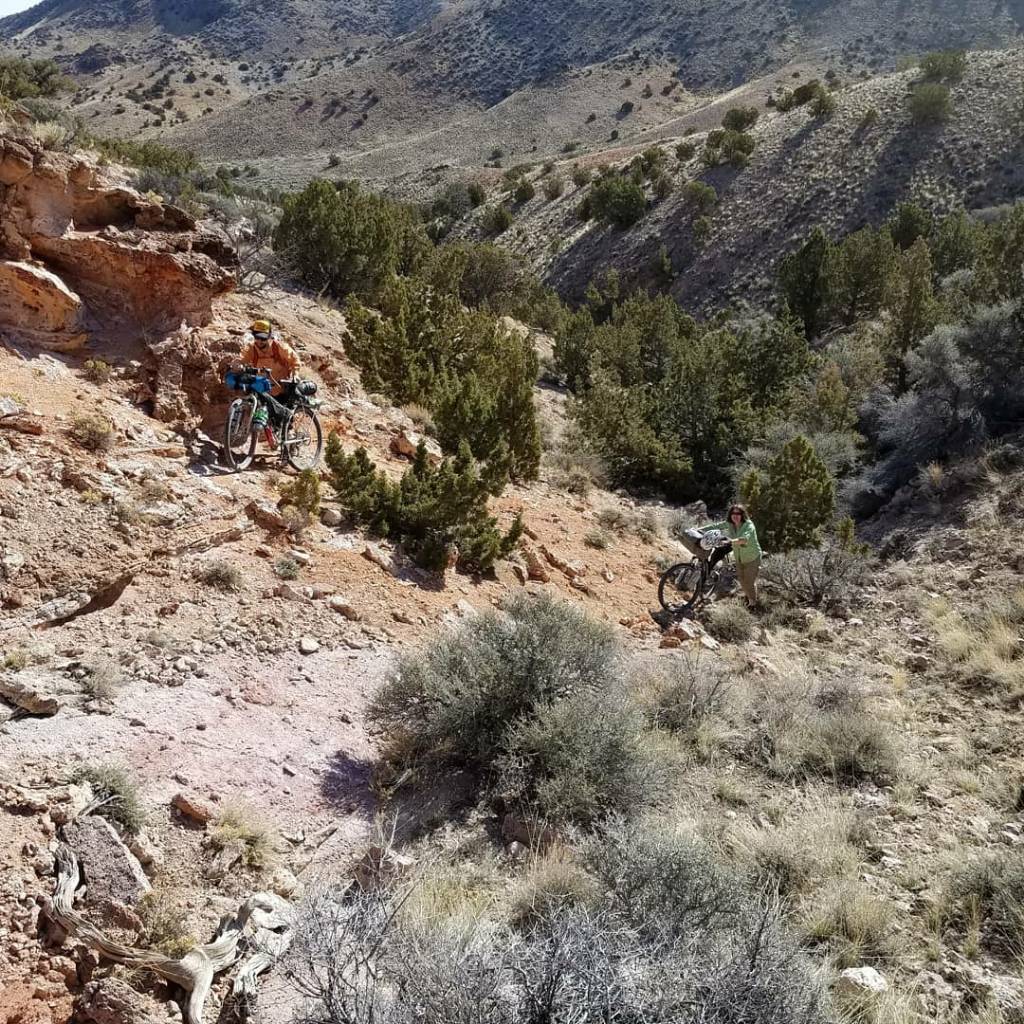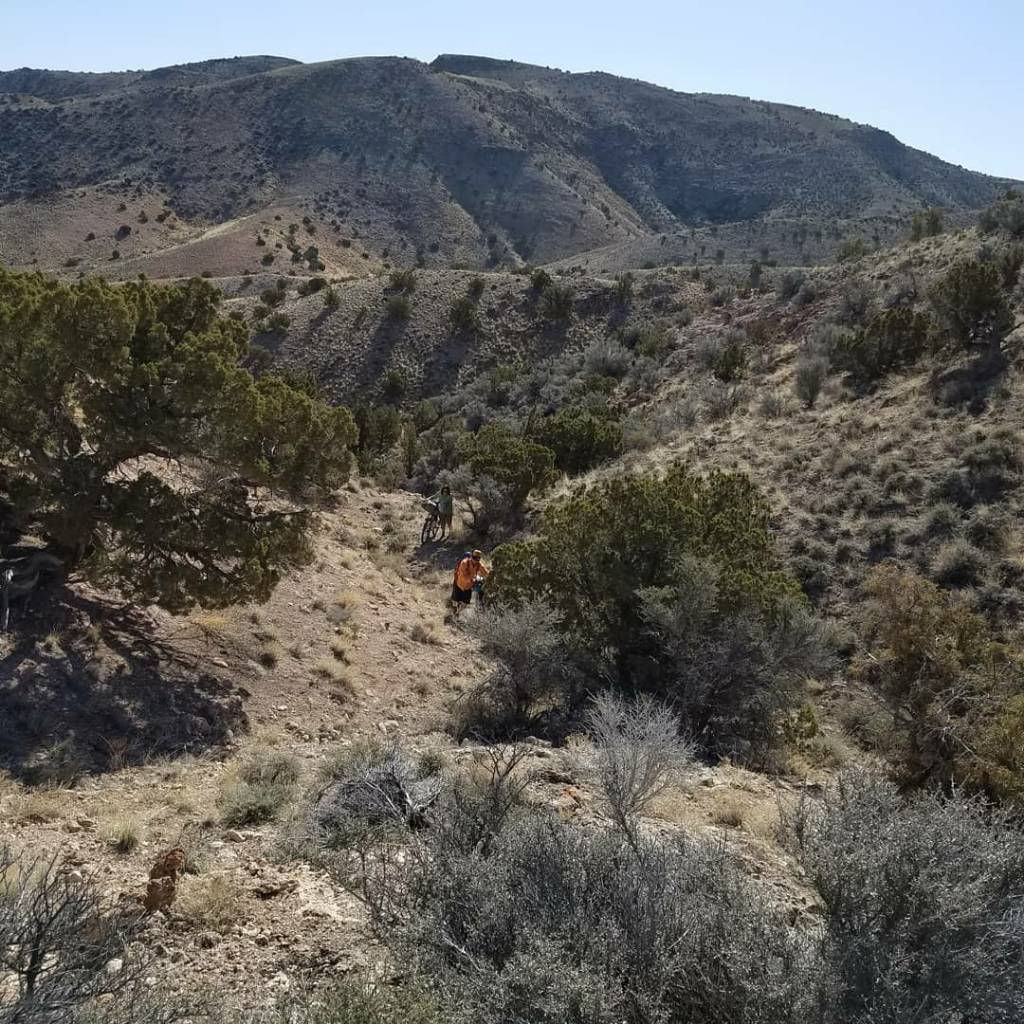 We cut the route short by 5 miles. Instead of riding our bikes to the goede beds we went straight to the cars. Then drove the cars back to dig for a bit.
I stopped in Tooele at Becka's recommendation and ate at Bonneville Brewery. Delicious.
After Ride Notes
Not much in the way of food or water left (1.5L) obviously I needed to be drinking more the second day. I accomplished my goal! Didn't run out, didn't take too much. Used every piece of clothing except my gloves but would have had I not gone to sleep and I needed the clothing I took.​
All that was left.
This was a great trip! My 6th bikepacking trip and I feel like I finally have the gear and packing dialed in. I have a few ideas how I will change things up the next trip but they are all minor changes. Only thing I need to dial in now is the rider. Then the entire package will be golden.
Sent from my SM-G935V using Tapatalk
Last edited: