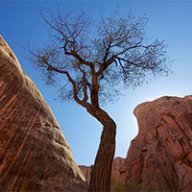 Joined

Aug 9, 2007
Messages

12,947
I spent a couple nights in the Uintas last weekend for the Backcountrypost Uinta Fest. I was able to slip out of work a little early on Friday so I went home, picked up Nikita, and raced on up to the Crystal Lake trailhead. Most of the group was planning on coming in on Saturday and meeting us at Crystal Lake but I planned to hike in towards Weir and Marjorie Lakes and hopefully meet up with
Bill
and his family that night.
To my surprise, I was actually able to find a parking spot at the Crystal Lake trailhead when I arrived around 4:30. That place has a bad reputation for having nowhere near enough parking spaces on a busy weekend. I quickly loaded the last few things into my pack and headed down the trail. I was an hour or more ahead of Bill but I wanted to get in a ways and then spend my extra time meandering and fishing.
For the first time since this spring, I was able to bring Nikita along for the hike. She was beyond excited on the drive up and had good energy for the first mile or so before slowing down quite a bit. Her age is really showing this year so it was awesome to have such a short trip that I could get her out on.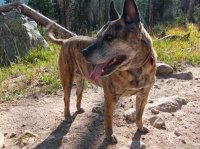 A meadow along the trail.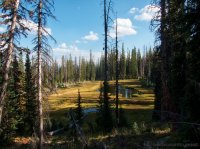 I told Bill I would make it obvious where I turned so he would know where to go.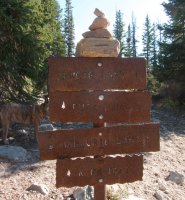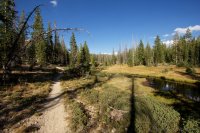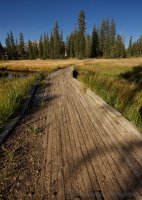 We stopped in this meadow and relaxed for a while. There was a surprisingly huge amount of boyscouts running around. I was hoping school starting up would have cut the numbers of big Friday night groups down but it was not to be.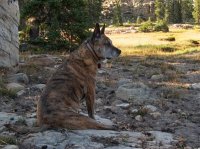 After relaxing in the meadow and stopping to fish a small lake, I finally found myself at Weir Lake.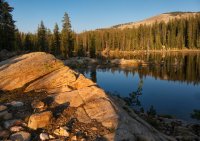 I was only at Weir for a half hour or so before
Bill
and his family arrived. We got camp setup in a cool dry lake bed and sat around the fire for hours. I tried a new recipe that I created in my food dehydrator; gluten-free spaghetti! Granted, the gluten-free noodles aren't totally paleo but I figured I'd let it slide. It was so awesome.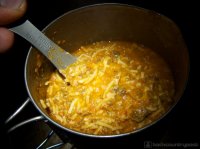 It was a clear night and I didn't even bother putting on my fly. It was nice to wake up to Nikita patrolling the area again.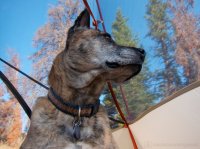 As I was getting ready to hop out of my tent, I saw the goggles I had brought along. BTW, thanks for the idea
ststephen
! The goggles made me think swimming sounded nice, so I popped out of my tent, wandered over to the lake and dived in. It was brisk seeing how it was only about 8am, but it felt awesome. And it only took me a few minutes to stop shaking!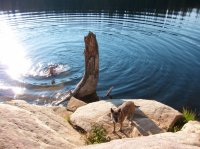 Out tents in the dry lakebed. In any other year, this would at least be marshy. On a wet year, the high water mark would be several feet higher than our tents. It made for a hell of a good campsite.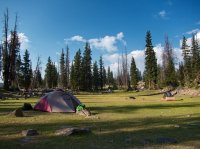 Later in the morning, we broke camp and continued hiking towards Duck Lake where we would connect with the trail up to Island Lake.
Bill's boys climbing around on the trail near Duck Lake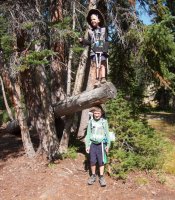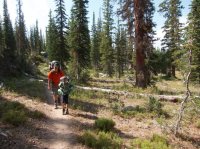 Nikita being older than she used to be.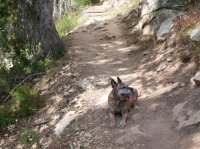 A little storm blew through right as we arrived at Island Lake so we went to the first known campsite on the NE shore. As soon as we got there, the storm blew out and it was beautiful. The nice cliffs to jump off were across the lake from us and there was quite the crowd so we didn't rush over. It was fun to watch them fly off of there one after another.
After sitting out on our rocks for a while,
pixie1339
arrived and joined us, and not long after that, another storm moved in. This time it looked a bit more serious so we all fled back into camp and dived into our tents to wait it out.
After the first big burst of the storm, I popped out of my tent for a minute to see
Waynee-ack
and his son down in our camp! I went down to chat just as the storm started to pick back up so I recommended they setup their tent and wait out the storm.
The storm lasted a bit longer than average but after 2 or 3 hours, we were able to get out and move around but the clouds were still threatening and it was still trickling a bit. Wayne was debating heading out early because they hadn't packed sufficient warmth for a cold night, meanwhile Bill was debating the same because they had the kids (including a 10 month old) cooped up in the tent and they also needed to be able to make a quick getaway in the morning because of obligations back in town.
We all debated whether the storm would continue. It kept looking like it might clear, but then a new dark cloud would arrive. Shortly after 5pm, Wayne and Bill decided to bail. That meant Lisa and I would be the only ones left so we went to work gathering wood for the night. By the time everyone was packed up and walking away, the sun was shining and the last few drops of rain were coming down.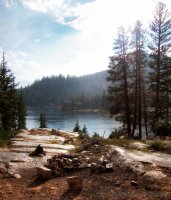 And then it stopped. From this point on there was no wind and the weather was perfect.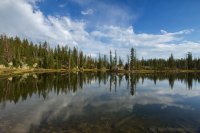 I was hoping some of the clouds would have stuck around for a nice sunset but it was not to be.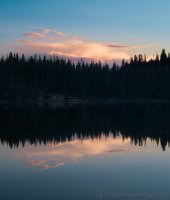 I hoped to do some night shots that night but clouds moved back in after dark so we just hung out around the fire and talked. The next morning, the water on the lake was perfect glass and the sky was filled with beautiful puffy clouds. I sure wish I had woken up to shoot sunrise, it might have been nice.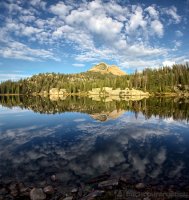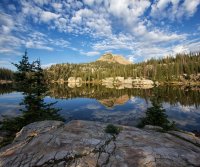 We took our time packing up in the morning and took it easy hiking out. I hiked a little off trail to check this lake between Long and Island. As Nikita showed me by trying to catch one, it did have fish, but they were small.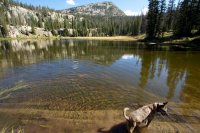 We stopped at Island Lake for a bit and I fished. I had gotten totally skunked up at Island so it was really nice to get a couple brookies on the Tenkara here at Long Lake.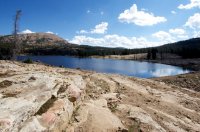 It was a good backcountry fest. The weather was a bit damp that afternoon but nothing out of the ordinary during monsoon season in the Uintas. Looking forward to the next backcountry fest to meet more of you!
Featured image for home page: