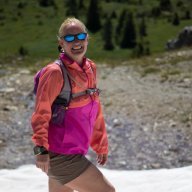 Joined

Dec 30, 2015
Messages

194
Headed out Friday after work for a weekend get away with the pupper. It rained on our way to the campground which is located on the edge of the Lost Creek Wilderness. About 10 minutes before we got there the rain stopped. It was pretty chilly the first night, colder than the forecast said as we woke to frost covering everything.
Saturday we headed up Lizard Rock Trail, to Hankins Pass trail. We did about 6 miles round trip. That good for my little dude. I try not to push him. As the sun set he got chilled and headed to bed in the tent on his own. Saturdy night wasn't near as cold. Sunday we had breakfast, broke camp and headed home.
Bought myself a new cheapie walmart 3 person tent for car camping. It's nice to have the extra room when weight doesn't matter. My last one was so worn out you could see through the walls.