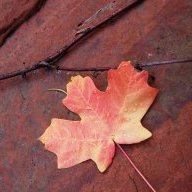 Life really is better Here
.
Joined

Apr 20, 2013
Messages

966
Again on a Wednesday after work the coworker group and I hopped in and drove on up Little Cottonwood Canyon. A little later than we wanted and under a flat gray sky.
dwarfed by some pines...
The original intent was to get to Maybird, but we had a few things working against us. Time constraints for some who had to be home early. Starting a little late. Wind that started howling...
So instead, we hit our turnaround point right at the bridge to Maybird. Still not a shabby 5+ miles and 1600+ feet of elevation gain. What a great way to again break up the week.
I only took a few pics. The feel of these pics are similar to the Silver Lake Flat trip a couple of weeks ago. The weather was about the same, so it is not surprising. We passed on group of students coming out and a couple other pairs of people, but it was blissfully empty and wonderful.
Steel gray clouds gathering.
Snow covered creek near the bridge to Maybird.
I like the marshmallow snow swirls.
Loose snow. I believe this is sluffing?
A final shot as the clouds started to collide overhead and the wind picked up.
On one of these Wednesday trips I may just be mountain sick and not go back to work until Monday. The howling wind and growling stomach though proved this was not going to be one of those times.