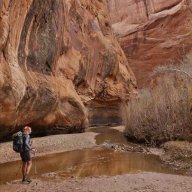 Joined

Jan 4, 2015
Messages

2,755
Hey folks, having a bit of trouble finding water information for lower Grand Gulch (Collins Spring TH-San Juan River). The best I could find is Kelsey stating that "The main canyon down from Collins Spring is bone dry". Couple questions
Does anyone know of any reliable/semi-reliable water sources in any side canyons? If so, how far from the main canyon are they?
Is the San Juan potable? Never been there so hard to determine its sediment load, or how much upstream industry there is.
Headed there this weekend to take advantage of a beautiful long weekend. Looking forward to it!