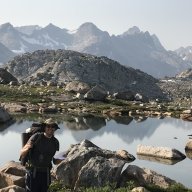 Joined

Mar 1, 2015
Messages

528
Hello all, I am going backpacking in the Needles District in early/mid April (less than a month and a half away!) and was wondering what to expect in terms of water availability. I have been to the Needles twice, but once was a through-hike of Salt Creek, which had plenty of water, while the other was a quick in-and-out to Chesler Park in the Fall (which had no water so I just carried all my water in). This time, we will be have the following itinerary:
First two nights: EC3 campsite (Elephant Canyon)---I read that there is sometimes water near there
Third night: Lost Canyon (LC2)---I read that there is usually water there during the Spring
I realize that it's only 3-4 miles or so in to EC3 from the trailhead, so many would recommend just carrying all your water; however, I have battled with both heel pain (plantar fasciitis) and knee pain over the years, so I really need to keep my pack weight down as much as possible. Can anyone who knows the area well please give more details about the water sources around Elephant Canyon (especially up by the campsites)? I've read that it's been a wet winter so far, so I'm hoping that means we're in luck, but I'm thinking this may be the kind of thing that depends more on recent weather immediately before the trip? If so, how far in advance will I probably be able to know the water situation? Any tips or advice is greatly appreciated!