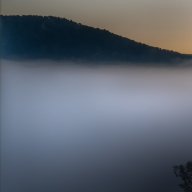 Joined

May 19, 2012
Messages

1,943
I have been here before @ the end of the road, years ago. I was curious to see where Slickhorn Road ended. I was not very impressed, evidently, as I had not been back. I have been most places on Cedar Mesa, the exception being this small canyon system, Water Canyon. I had been to the mouth of this canyon on my way down Grand Gulch once. We only went a little ways up.
BTW Thanks to
@mike_offerman
and
@Bob
for info on this hike.
I stuck my head out of my tent that 1st morning, and I was immediately glad I was here. It was in the low 30's with no wind, and it would heat up to about 50 that day. Perfect, as long as you were in the sun.
Our plan was to head SW for the head of the southernmost canyon, and work our way north. We wanted to find a different way into the canyon system. All of the canyons were inaccessible to us (at least to me). We tried to find the route described by Mike and Bob but we could not see it. So we headed that canyon and headed west, where we found this little side canyon. We had to take our packs off 3 times, a little sketchy at times but not too bad.
The head of the southernmost canyon:
Looking towards the canyon we hoped to enter:
After a slightly scary descent, we were in a sandstone paradise, pools, cottonwoods, pinons and silence.
We came upon this drop off, easy to negotiate along the creek bottom. We decided to stop for a break, then we decided to stay here for 2 nights. It was a beautiful place to camp. This canyon has an intimacy, a scale, that does not make you feel small.
Next morning:
We had sun very early. Very nice.
I did not really want to go on a day hike. I would happy exploring our immediate surroundings, but I wanted to see if we could reach the mesa via a side canyon below. It's always nice to have a good loop hike.
This is the little fall below our camp, on our way down canyon:
At the junction with the side canyon on the right LDC. We went up maybe 1.5 miles. It was a fun hike, fun route finding.
This was where we turned around. Maybe there is a way out. Maybe not.
Next morning:
Gotta go home. Packing up:
The hike out:
Looking back at our canyon:
Back at the end of the road.
I am happy to have spent some time here. There is more to see.
Greg
Last edited: