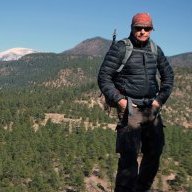 Joined

Aug 19, 2016
Messages

459
I was doing a hike In the Dome Wilderness, which borders Bandelier National Monument. We were looking for a little known pueblo ruin. The Las Conchas fire swept through in 2011, scorching the ground to bare earth and killing most of the trees. This was the second largest burn in New Mexico history.
The day started out pretty nice but by the time we got to the trail head, the wind was up. Stupidly we started hiking anyway and soon were going in and out of canyons. After exiting one of them, I saw two trees go down like that. Bam! It took no time for them to slam to ground. No way to escape or run.
...Yeah we kept going, neither one of wanting to wuss out. Passing by a low point, I saw another two go down and watched others bending at the stress points in the wind, ready to crash at any moment.
By the time we got to the half way point, heavy gusts were shoving us. We had one more canyon to cross and that's when we gave up. Not worth it. But we still had to get back by crossing those same canyons we came in on. All you can do is go fast and be afraid. On the last bend there was a monster tree laying on the trail that had not been there when we were going in.
Our mistake was obvious but when passing through an area with dead trees, you may not know what the conditions were in the days or weeks prior to being there. This is an objective risk that is not at all obvious in calm conditions. So if you are walking through a burn, beware.
Following is a sat map of the burn area:
http://caltopo.com/map.html#ll=35.72512,-106.35936&z=14&b=sat
Last edited: