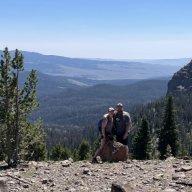 "Going to the mountains is going home".
Joined

May 26, 2019
Messages

112
Just looking for some thoughts/advice on this route for my upcoming trip at the end of July. I originally had planned to start at Bonneville Pass and head out over the Buffalo Plateau to Marston Pass and drop down to Bliss Creek meadows and then up over Pierpont Pass and into Hidden basin, but after a lot of planning and ultimately what we hope to do and see on this trip I wanted to shorten it up a bit and spend more time in just a couple different places.

My thought now is to start out at Double Cabin and head up Frontier Creek and camp the first night near Cougar Creek. On day 2 we will hike up over Cougar Pass and drop down into Hidden Basin where I'm thinking about setting up a base camp for 2-3 days and getting up on the Shoshone Plateau and just explore as much of Hidden Basin as possible. On day 4 or 5 we'll hike back up over Cougar Pass and set up camp on Frontier creek and then spend the next 1-2 days attempting to get up onto the plateau and find Devils Graveyard and walk the ridge up there over to Emerald lake.

I will be bringing my spotting scope to do some digiscoping in hopes of getting some great wildlife shots. This should be extremely prime grizzly habitat especially at that time of year while they're searching for moths in the high country. There is also a healthy population of bighorn sheep and elk in that area and possibly the ever elusive mountain lion. Another big reason besides being incredibly beautiful country in there is the wildness factor, not many people get up to the Shoshone Plateau, Devils Graveyard or Hidden Basin for that matter so it should be people free haha.

Thanks for any thoughts you guys may have on this.
Last edited: