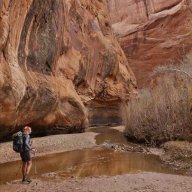 Joined

Jan 4, 2015
Messages

2,745
Pretty much any hiker in Utah has at some point, I suspect, thought about a north-south hike down the spine of the Wasatch. I've probably got about three different half-finished versions of such a route laying around in my Caltopo account.
Well, somebody's actually done it recently - Snorkel. Her trip report is here. Looks like she did it in the early fall, which would be a prime time. The Wellsvilles were apparently a pretty brutal start to her trip.
http://www.eathomas.com/2015/09/24/wasatchoverview/
Does anybody know of anybody else doing anything like this?