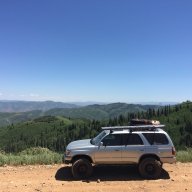 Joined

Jul 16, 2018
Messages

10
About a month ago I decided I wanted to visit Shoshone Falls, Idaho, I heard they were the Niagaras of the West.
I knew I didn't want to go and stay in a hotel or Airbnb, so I got on google maps and surveyed the nearby areas to see if there were nice camp options OUTSIDE of a KOA or populated place.
After a little digging around, I saw a place called Cauldron Linn listed on the map. After a bit of studying, I learned it was situated along the Snake River and while nearby the city, it was just enough off the beaten path to offer some alone time. So I mapped out my destination, I checked to see how far I would be from Shoshone Falls and marked it on my calendar.
So that Friday I loaded up my 4Runner with enough gear for the family and off we went. I intended to leave in the evening but time got the best of me and we didn't hit the road til almost 10pm. The drive was uneventful, everything was pretty straight forward. I made a stop at Jack In the Box since we don't have that in northern Utah, refueled my stomach and continued on. We arrived into Cauldron Linn right about 1:30am and it was pouring hard!
Google's directions actually led us to a closed off section but fortunately the locals have the area well marked so I followed their posted signs and after a 10 mile detour we had arrived. Driving into the Cauldron at night with nothing but headlights made for an interesting descent, it was pretty cool.
We picked a spot to camp that had a table and fire pit and I deployed my awning so the family could stay dry while we set up the rest of the camp. It was late so we called it a night right away. When morning came it was a very nice view of the area. We were situated about 30 feet from the river but there was a rock bed that had slowed the water flow to a trickle. About 50 feet downstream the water levels picked back up.
I didn't grab hardly any photos from this area sadly, I was more focused on looking at the surroundings and wandering around. But it's certainly an area worth checking out if you find yourself out there!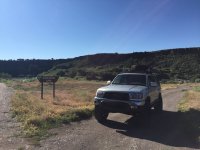 We packed up and were back on the road towards Shoshone Falls around 9:30, it didn't take very long to arrive. We were one of the earlier guests so we had most of the park to ourselves, unfortunately there was only one active waterfall due to arriving later in the year after the snowmelt and it being a mild winter. While it was a bummer that we didn't get to see both Falls active, I was glad we made it out to appreciate the country.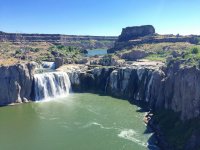 We went for a small hike to look around the area and after that we left the park to go into town, grabbed a few supplies and some lunch. Afterwards we headed back into the park and stopped in at Dierkes Lake directly above. The kids splashed around for a few hours and I just relaxed in the shade. We considered staying another night but opted to head back home.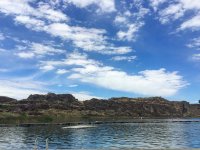 And a departing photo of the mountain goat.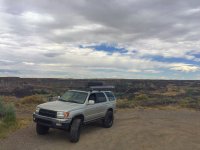 Last edited: