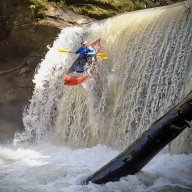 Joined

May 3, 2013
Messages

556
My tour of the South Cumberland region continues...
Virgin Falls SNA is a small 1,157 acre gem located in the middle of nowhere, Tennessee. Highlights include 2 waterfalls, a very scenic overlook, backcountry campsites, lots of caves and the wild Caney Fork River, a remote class 4 whitewater run thru Scott's Gulf. Gulf is another name for gorge or canyon in this area, for some reason those weren't good enough...
A few minutes into the hike and I almost stepped on the biggest Gray Rat Snake I've ever seen...
The Mountain Laurel is at its peak...
First stop, Big Laurel Falls
The falls drop right into a cave, which on a sweltering 90 degree day felt amazing
On to Virgin Falls...no virgins...
110' Virgin Falls. Again, the difference in temperature down here and the spray from the mist was magical
Virgin Falls Cave about 30 yards above the lip of the falls. Out of the cave, into a sinkhole. Its so cold in some of these caves they used to store ice. Kart is kool.
Martha's Pretty Point overlook. No Idea who Martha is, but she has a pretty point.
Out and back, with side trails, is about 10-12 miles. 3 backcountry campgrounds make for great basecamps during the week. I've heard weekends get crowded and rightly so. I had the place to myself once I got to camp near the falls.
This trip was a few days after a 3 day backpack into the high country of the Southern Appalachians of NC with friends...and a night in both Asheville and Chattanooga. Nice variety. It's been a good spring to explore some of the more off-the-map areas of the southeast.
https://www.tn.gov/environment/prog...-region/middle-region/na-na-virgin-falls.html