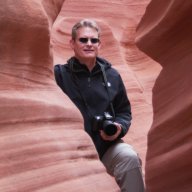 Joined

Jan 13, 2013
Messages

136
I had a couple of floating vacation days left over at work that I had to use or lose them. The upcoming days looked promising weather wise for winter camping with clear skies and almost no wind. So I decided to do a short solo-trip and threw together my camping gear and food in the back of the Jeep the night before.
Sunday, February 14, 2016
Home to Alstrom Point.
I left my house in Southern California around 7am and drove all the way St. George, only stopping at the CA/NV state line for a gas/bathroom break. From St. George I made the mistake of driving thru Zion NP. There was a long line of cars backed all the way into the town of Springdale waiting to get into Zion NP. That kind of put a damper on my mood, as it is this kind of bumper-to-bumper traffic I deal with every day in California. Eventually I got past the entry booth and from there on it was smooth sailing thru the park. In Kanab I refueled the Jeep and headed east on Hwy 89.
In Big Water I turned off Hwy 89 and headed out the NP 230 dirt road into GCNRA and across the grey landscape below Nipple Bench towards Alstrom Point, my destination for the night. I didn't stop to take any pictures as I was short on time for making it for the sunset. I barely made it to the point, but was rewarded with great light as the sun was setting on Gunsight Butte.
The prime spot at the very end of the Alstrom Point road was already occupied by a small group, but I was still able to get a nice isolated spot directly on the edge with nice views over Gunsight Bay.
View from the campsite.
I setup my new tent (Big Agnes Copper Spur UL2) and started a fire in the already existing fire ring. As the sun went down the temperature dropped quite a bit, but the fire and lack of wind kept me warm while I ate dinner and had a couple of cold beers from the fridge. When the fire burned down I went to bed and read a little before falling asleep.
Monday, February 15, 2016
Alstrom Point to White Pocket.
I woke right as the sun was rising. I unzipped the tent and started boiling water for some life giving coffee. Nothing like having breakfast in bed with an awesome view.
After packing up camp I drove back out to end of road to check out the view again.
On the way back to pavement I took a side trip down Crosby Canyon. The sandy area at the end of the trail is usually under Lake Powel water.
After reaching Hwy 89 I explored some 4x4 trails just West of the Colorado River looking for a way over to Ferry Swale Canyon and beyond for a future trip. The trails in that area had lots of sand, probably worse than the road out to White Pocket that I was headed to next.
I drove over Glenn Canyon Dam and stopped for a couple of pictures at the overlook just down river from the dam.
I continued south around Echo Cliffs, over the Navajo Bridge at Marble Canyon and followed the Vermillion Cliffs West and then North up the House Rock road and onto the Plateau. The sandy trail was pretty firm from the cold and I arrived at White Pocket fairly quick. There was only one other vehicle with a local couple from Page and they left shortly after I arrived. This meant I could get the camp spot I was not able to get
last time
I was here with my friend Bo.
After setting up camp and got a bite to eat, I walked down a small wash to a cave that had some pottery shards and a corncob on display.
From there I proceeded over to White Pocket and spend the rest of the evening walking around and taking pictures. It was great to have the place all to myself.
That night I fell asleep to a nearby owl hooting and only woke up once to a coyote howling, which was kind of cool.
Tueday, February 16, 2016
White Pocket to Home.
I woke to a cold morning with ice slush in the water bottle in my tent. I don't own a good warm sleeping bag so I actually brought two bags on this trip and draped the second one over my first bag, which kept me comfortably through the night. After this trip I bought a nice Western Mountaineering TerraLite down bag that is going to be my all-around car and backpacking sleeping bag.
Still lying in my tent, I made hot coffee and ate breakfast while watching the first rays hit the top of a nearby hill.
Before packing up camp I walked over to White Pocket again to explore, but the light was not as good for pictures as last nights.
I left White Pocket and drove out to House Rock road and up to Wire Pass trailhead. I was going to try to walk down the wash to Buckskin Gulch and then north, but I was not prepared for the very cold looking water holes underneath the choke stones in Wire Pass slot.
So I backtracked a little and hiked north on the bench above Buckskin Gulch, then crossed it further upstream and headed East to the area referred to as "Edmaier Secret". Pretty cool area, but for some reason I did not take a lot of pictures there.
I made it back to the Jeep 3.5 hours later and then drove the long way home to my house in California.