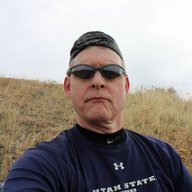 Joined

Dec 23, 2013
Messages

1,665
My family completed a nice four hour hike this morning along the northern ridge of Red Butte Canyon that I refer to as the Van Cott Ridge. The early wildflowers are finally starting to pop up here along the foothills of Salt Lake City, and the hills are now green for a short period of time from all the recent precipitation we have been getting. Temperatures were in the mid-seventies today and I thought it was a tad bit warm on our hike. It always take me a couple of hikes to get used to the warmer weather as spring moves along.
Common Storkbill
View of the summit of Mount Van Cott
Longstalk Spring Parsley
Ladybug on the trail
Arrow-Leaved Balsamroot
Yellow-eyed Cryptanth
On top of the ridge - at this point you can summit Mount Van Cott or head east along the ridge
Looking east towards the head of Red Butte Canyon
Spring Beauty
Heading into the oak
Looking east along the Van Cott Ridge
Another shot along the ridge
View of the southern ridge of Red Butte Canyon
Lots of sign of elk along the ridge
Elk track in the snow
Lichen on the scrub oak
Yellow Bell
We're heading towards the top of this hill - the last high point along the ridge
One last short, steep section
First Mountain Mahogany that we ran into
Tour de Brewtah coming up in two weeks!
Our turn around point. The ridge drops down after this hill to the head of Dry Canyon
Glacier Lily
More Glacier Lily
View to the south at Gobblers Knob and Mount Raymond
Coming down off the ridge and Mount Van Cott
Winter Kill on our way down.