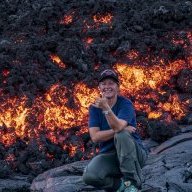 Joined

Jan 19, 2012
Messages

3,646
Rainy Day at the flow
Valentines Day lava - my plan was to hike way up to the Pali and check out the flow up the there again. But mother nature always has different plans. While I was hiking out it started to pour and was getting worse and worse. For sure, this was no day to hike up to the pali. It would be way too dangerous getting caught in a whiteout up there with massive lava flows all around me plus the extremely steep cliff where one wrong step could be fatal. So I decided to go to the regular lava flow instead. I was already wet, so I didn't mind. I managed to check the radar on my phone and a huge rain cell was hanging over the area. I still had hopes that it would move out within the next hour as it often did. Okay, forget about wishes and face reality.
I was already three quarters done when I saw the big white steam cloud ahead of me. Great, this will be another whiteout day in the field. I walked around the eastern edge of the whiteout and continued to go. Every rock, tumulus mount, and each corner was more than familiar to me. If I would end up getting stuck in the whiteout at least I knew where to go. For a few minutes, I was completely surrounded by hot humid steam but I was so close to the pali that the wind shifted suddenly and my view was clear.
The lava was just a few hundred feet ahead of me, and it looked amazing. So much activity coming down the Pali, wow. As I walked along the edge of the Pali I kept walking out of the steam and soon reached the surface flows in the pouring rain. What a sight!!! Rivers coming down in several places. It rained so hard that it made a crazy noise on the hot lava. Not just the nice sizzling sound when rainwater hits it. It sounded like a hurricane. It rained so hard that I could not even set up my camera and take a few shots.
Here I was, way too early out in the field at 5:20 am and hoped the rain would eventually stop. It was just me and the weather. The spot where I was standing at was completely spared by the whiteout and the hot and humid steam. Everything else was covered in white, there was no sight at all. This was for sure no place you want to be in in the dark if you have no clue how to deal with it. I felt extremely comfortable where I was. It was loud and peaceful at the same time. It thought of my friend and colleague Sean who passed away earlier this month in a whiteout out here in the field. He must have experienced something similar while he was caught in it. He might have felt a peaceful moment as well, who knows. I was only a few hundred feet away from the spot where he was found that day. I miss you brother, you're probably smiling back from where you are right now.
I stood there for more than an hour, took advantage of short breaks in the rain and captured the beauty of Pele. She even smiled while letting her fiery hair down. It was mesmerizing.
Eventually, dawn arrived and a short break in the rain offered me a view of the coastal plains lava field ahead of me. Fog and steam were creeping along ridges, crevices and across the old lava. It looked absolutely beautiful. I took a few shots, it was magical. Even weather like this has its own moments. Rainy days aren't necessarily bad days to be out, but they are for sure days to be aware of all your surroundings. Things can deteriorate within seconds.
It was all over soon after when the first crazy tourists arrived who had ventured out this morning and somehow managed to get out of the steam. Our own Epic Lava tour with a great group showed up a bit later and my boss looked a bit astonished to see me out here in the rain on my day off. But I had a special morning out here in the rain today. The whole experience was worth it to get wet and to stay here in the pouring rain for a long time.
steam rising from the hot surface during a clear moment
Do not hike out in conditions like I experienced today unless you know what you are doing, what to expect and how to deal with a serious whiteout. These conditions will let you lose all sense of place and it can get so bad that you cannot see your own shoes anymore. You will likely be caught in hot steam and you are completely blind.
Where do I need to go? Whiteout creeping up and surrounding some visitors
the view inside the complete whiteout, I couldn't see my own shoes
it clears out a bit
Unless you know how to get out of it and deal with this situation, don't ever hike out in heavy rain. You can't see the surface or anything else around you. Temperatures might rise to more than a 100F inside the hot steam cloud with a 100% humidity. The steam is thick, it's like being caught in a massive steam bath.
two of our guides covered in a developing whiteout
a short break before more severe weather moved in
You need to hundred percent know what to do and how to get out of it if it worsens. Leave days like today to the experienced tour guides and lava hikers who know what to expect and how to deal with it. Wait a day or two and hike out to the flow when it's safe to do so.