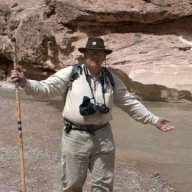 Joined

Sep 27, 2012
Messages

15
I recently started (or spun off) a blog that documents the rock art sites I've photographed. It's pretty basic right now, but I'll keep adding to it as time allows. As long as the sites are already fairly well known, I will give directions or coordinates to help in finding them. One thing I have discovered is that
Microsoft Photosynth
can be an excellent way to organize and view rock art, so most of my posts will include a link to a synth.
The blog can be accessed at
http://utahpetrographs.blogspot.com
. (I know, "petrograph" is not a word, but "utahrockart" was already taken and "utahpetroglyphsandpictograms" is way to long.)
I hope this is useful to at least some of you in the Backcountrypost community. Enjoy!