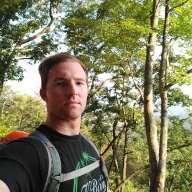 Joined

Mar 26, 2019
Messages

4
Hi All,
Im new to the forum and am looking to get away from work this weekend and do something adventurous. I recently moved from NC and am car camping in SLC as I keep costs low to start an online design business. My style is diy ultralight and Ive been camping since a youngster with sufficient mountaineering experience (chimborazo) for this hike. Lone Peak is close by and doable and this weekend looks pretty good as far I Ive learned so far. The only question I have is if there is snow that would prevent passage to the summit. Maybe someone here knows? Im looking to do at least a 1 nighter but could do 2 as well to make the hike more relaxed. The internet says its a 12hr hike up difficult terrain to a summit of 11,253'. Im looking for at least one comrade but the more the merrier! And someone with a youtube channel would be great. There are some rules with Lone Peak: no fires and parties over 10 are the most relevant restrictions. These look like pretty good directions for the hike that I will rely on
http://www.yourhikeguide.com/lone-peak/
. The weather is low chance of precip for fri and sat with lows in low 30s although its probably lower high up.
https://weather.com/weather/tenday/l/Salt+Lake+City+UT+USUT0225:1:US
. Ill be bringing my diy bivy, down bag, top quilt, 4-season pad and cuben tarp as my sleep system. I can leave early friday or saturday and can take more time or make it a longer trip if anyone suggests. Let me know if you want to get coffee a day beforehand to meet and go over the plan. Anyway, I hope this can happen!
Best,
Matt