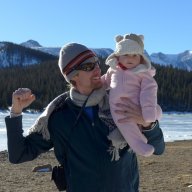 Joined

Mar 18, 2014
Messages

103
So I'm coming up on a long 4 day weekend where I can get out to Utah and perhaps get to some areas I still need to see. I'll be heading out with a friend.



*I really wanted to do Salt Creek point to point but driving 2 cars all the way out from Colorado seems wasteful on gas and counter-productive to the environment just to run this one shuttle. I looked into companies that provide shuttle and was dismayed at it costing a few hundred dollars just to catch a ride somewhere. Plus, we would need to pay park fees to get our permits from the visitor center and neither of us has a parks pass.
- would you suggest an out and back from the top? It seems like a lot of walking for the 3.5 days...

on to the list... Some of the places on my list I'm trying to choose between: ( i kind of put these in order from 1st preference to last)

1. Boulder Mail Trail > Death Hollow (or someone said to walk in from the bottom at Escalante and walk the bottom up to the wading sections to see the best part of this)
- what I'm worried about is the temperature and the chilliness of the water. Should I just save this one for a late May/Early June trip?

2. Blanding area - explore Grand Gulch ruins and hikes like Fish/Owl canyons that I've been wanting to do. Car camp each night. Maybe explore Comb Ridge ruins and hikes.

3. Halls Creek Narrows / Muley Twist Canyons. Car camp or backpack some of this area.

4. Little Death Hollow / Wolverine Loop
- don't know too much about this area, I just wrote down that it looked like a good long dayhike or multi-day

5. I would love to get to the Paria Canyon or explore more of Buckskin but this just seems like an excessive drive from Colorado for a long weekend. Best to save this area for a longer outing.

Can anyone help me decide what to do or help by making a suggestion. It'll be the last weekend in October when I get out. I'll be staring at the weather all next week (some would say obsessively) and making a plan B for somewhere in Colorado or New Mexico if the forecast is not favorable to canyons and the dirt roads that lead to them.

Thanks for taking the time to read this and offering up your advice.