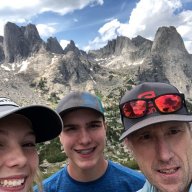 Joined

Dec 27, 2012
Messages

572
I am planning a trip to Upper Salt Creek the first part of April. The 1st night is at SC1 from Cathedral Butte, 2nd night at SC3, and 3rd at SC2. After reviewing other posts and reports I had a few questions:
Do I need to hike past SC3 to see the bulk of the ruins and rock art? Some posts suggest no.
If so and I adjust my plans and hike all the way through is there a transportation service I can use for a reasonable cost to get back to Cathedral Butte for my car?
Should I take the light weight "point and shoot" camera or the Nikon D90 with the fat lens?
Wind appears to be an issue with a majority of those hiking during April. Any suggestions on dealing with high winds? I have visions of my little Hi-Tec backpacking tent getting shredded in the middle of the night.
Bears. Are they seriously as reclusive as the guide books describe?
Anything else that I missed?
Thanks in advance...