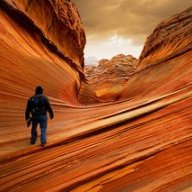 Broadcaster, formerly "ashergrey"
.
Joined

May 5, 2012
Messages

1,724
With a world of places to explore, it takes some convincing for me to revisit trails I've hiked before. Some places, though, are worth the time for a return trip.
Such as the sublime Upper Muley Twist in Capitol Reef.
My brother had never been to the park, let alone the seriously awesome south end of the Waterpocket Fold. We hit it over Memorial Day weekend in an effort to avoid the crowds that made a complete madhouse out of Moab. This strategy paid off, though I suspect that's a great deal thanks to the weather.
The weather.
We'd had a string of bad weather luck on prior outings and the forecast didn't look all that good as we pressed out of Salt Lake City early the morning of May 23rd. The drive to Torrey went well, though we did encounter snowfall coming over the pass on SR-24. We popped into a busy (by CRNP standards) visitor center for our permits then headed south on the Bullfrog-Notom Road.
About halfway down, the rain grew ominous and the road turned into a skating rink. We powered past a couple motorcyclists who were mired in muck, wanting to help but not willing to risk becoming stuck ourselves.
We had a few tense moments fishtailing through the slime. At one point, I pulled off and decided to wait out some of the storm.
Then, a guy in a newer Subaru came past and powered his way up the hill. So, feeling shamed, I followed his trail.
The Burr Trail switchbacks were sloppy, but not dangerously so. Still, the view from the top had a grim overtone.
At the turn into Upper Muley, we mused about the wisdom of driving up canyon. The rain had been steady for at least an hour and, I reasoned, there was a good chance we'd see some flooding. But the wash bottom held only a trickle of running water so we chanced it.
About halfway up to the Strike Valley trailhead, we saw a head of foam come around the corner. Not knowing how deep it was or how much debris was coming behind it, I pulled the car up onto a sandy bank. The wheels started to spin in the sand as the water level climbed.
Thankfully, the flood surge wasn't all that severe.
It did reach within a few feet of the car, but soon receded.
Still, the canyon was flowing and the rain was still falling with no sign of letting up. We opted to leave the car parked in its nearly high-centered position and head up the rest of the way on foot.
Just past Saddle Arch, the water running through the canyon spread wall to wall. That made the rim route split seem as good a place as any for a camp.
The rain returned and pattered on the tent late into the night.
Skies looked a lot better on Sunday morning. We tucked away our non-essentials, spread some gear out to dry and headed up toward the rim.
The walk along the Fold was absolutely stunning. Utah's wet May had turned the strike valley totally green.
The pale, sun-bleached landscape I remembered from hiking Upper Muley one September a few years past was replaced with a horizon-to-horizon ribbon of emerald.
Wildflowers and cacti were vibrant and healthy.
Even the hearty junipers and other shrubby plants seemed more happy.
Big puffy clouds bounced around in the sky.
We could see some building storm activity in the south-west. The skies grew a bit more overcast as we descended from the rim and started down canyon.
Then, as we walked, a cell moved directly overhead. Rain started to spit down. We scrambled under the nearest rock overhang and watched in awe.
Streamers of rain water started to flow in loud rivulets down the western wall of the canyon. They hit the floor, churning up sediment and intermingling. Then, together, they began the long trek down the wash bottom toward Lake Powell.
I ran out into the rain to try and film it. Looking upstream, I couldn't see any water flowing in the wash. We were situated right at the point Upper Muley went from being a dry canyon to a wet one.
Having water flowing down Upper Muley transformed it into an Escalante-like paradise.
Little waterfalls cascaded down from unseen pools.
Here again, wildflowers and cottonwoods bloomed.
Clouds kept threatening as we returned to camp and broke down, but the rain seemed to skirt either side of us.
I played a bit with a 10-stop ND filter, trying to capture the dramatic motion of the skies.
We started running into more people coming up canyon, many on day hikes. Some didn't seem to have any concept of where they were going. Others had a knowing look — they, too had been here before and were enjoying seeing the canyon alive.
A nice couple gave us a lift from the Strike Valley trailhead back to our stranded car in their own Subaru. I tried to explain to the guy that the water had come on us suddenly and it was actually quite a bit deeper and faster the day before. That was the truth, but it didn't help me from feeling dumb when they dropped us off next to a tiny stream of water.
Once back on pavement, we reasoned it wouldn't be wise to return to Torrey on the Notom Road, so we booked it west toward Boulder.
Then, racing the fading afternoon light, we headed up over Boulder Mountain.
The views from on top were incredible.
Storm cells were rolling over the desert and from our vantage point, they seemed like tiny little children throwing temper tantrums. We knew though that anyone out under them right then was getting pounded.
I had the new Canon 100-400 ƒ/4-5.6L II along for this trip and tried to put it to use capturing the rainbows popping up amid the broken terrain.
We ran across a group of deer grazing along the highway, but they weren't looking too photogenic at this point in the season.
By the time we pulled into Torrey, the sun had already fallen low toward the horizon. I'd hoped to catch the wildflowers in bloom over at Factory Butte so we drove that way, arriving at dusk to find nothing but dirt and weeds.
Then rain started to fall. Again.
Feeling tired and without a camp, we piled back in the car and drove to Hanksville. Huge thunder bumpers were lighting up the horizon to the east over the rivers and Canyonlands country. As I recall, some BCP members were getting soaked.
@Nick
might have been on Powell.
We kept driving, heading up 24 toward I-70 and peering through the dark for a private little place to pitch camp.
Spying satellite maps, my brother directed us off the highway toward the San Rafael reef. We found a great little sandstone formation, made camp and called it a day.
Monday morning dawned bright and clear.
The morning sun made the reef glow and we were up early to take advantage of the pretty light.
My brother did some flying.
We had family obligations that day back home, so we didn't dawdle long before hitting the highway again. But after only a mile or so, my brother spied something along the shoulder as we sped past.
"Was that a badger?"
"A what?"
"I thought I saw something. It was probably a skunk but I swear it looked like a badger."
We flipped around, parked, grabbed our cameras and inched carefully to the side of the road. Sure enough, a mama badger and three kits were lumbering up the roadside ditch.
When they spotted us, mom started furiously digging a burrow and pushing the kits into it. Every minute or so, she'd push up a big pile of dirt and emerge to check her surroundings. She never acted too aggressive, but here hackles were up a bit first.
With great caution, I crept in closer to the burrow.
I had the 100-400 lens on a crop body for maximum reach. It paid off. Mama calmed down and held some great poses.
Badgers were my favorite animals for a time when I was a kid and I'd only ever seen one in the wild once before. Watching this little family digging in the dirt made the trip for me.
After a while as voyeurs, we moved along our way and left the badger clan in peace.
Featured image for home page: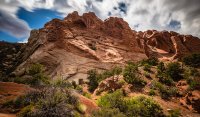 Last edited: