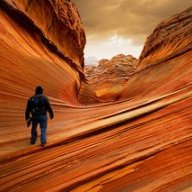 Broadcaster, formerly "ashergrey"
.
Joined

May 5, 2012
Messages

1,724
New Trail Guide up for Upper Muley Twist in Capitol Reef National Park. In-depth questions & comments can be posted in this thread.
View Upper Muley Twist Trail Guide
[bimg=fleft|300]http://backcountrypost.com/forum/data/attachments/7/7408-0d5beb9b3c65e0d131592f3e09e7bb02.jpg[/bimg]
Upper Muley Twist Canyon is a largely undiscovered gem of the U.S. national park system. It is highly scenic hiking route in the remote southern section of Utah's Capitol Reef National Park. The route covers a variety of terrain, from a pebble-filled dry wash bottom to slick rock scrambles. Along the way hikers are offered stunning views of the park's trademark Waterpocket Fold strike valley, petrified sand dunes, arches and other geological features.
Read more...