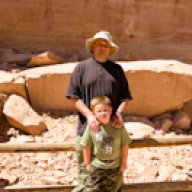 Joined

Feb 23, 2012
Messages

128
This trip has been a long time coming. I had wanted to start backpacking for a couple of years and have been slowly buying gear. My first backpacking trip was a short trip to Cliff Lake last fall. This trip would be my second.
I started planning this trip as a trip to the Escalante area for my oldest boy, Dylan and me. Then almost at the last minute my wife decided to tag along and bring my youngest boy, Bryant. I quickly purchased a backpack, sleeping bag, sleeping pad, and extra tent. (I'll post a gear review later.)
I wanted to leave home on Friday May 4th around 10:00 am but due to other family commitments we didn't leave Ogden until 3:30 pm. The late departure made for a late arrival at the Hole-in-the-rock rock road turn off from highway 12.
We started down the Hole-in-the-rock road about 11:00 pm looking for a place to camp for the night. When you're driving a Honda Civic that is one rough road. Finally, about 7 miles in we found a place to camp for the night. I got to bed sometime after midnight, way late for me.
My original Plan for this trip was to drive to Willow Gulch and camp at Broken Bow Arch on the advice of Summit. However when we got up on Saturday morning and I started thinking at the rate we could drive down Hole-in-the-rock road it would take at least 2 more hours to reach the trail head and possibly 3 hours to drive out on Sunday. Time for plan B.
We drove into Escalante and got a permit for the Upper Escalante River from the visitor center and proceeded to the trail head.
Our camp site for Friday night along Hole-in-the-rock road.
The crew at the Escalante Town trailhead.
We packed in about a mile and a half and setup camp for the day.
After camp was setup the kids played in the water for a while.
The we walked down river for a while to take in the beauty of this place.
By the time we made it back to camp we were running short on water, time to pump! I filled all of our water containers full except for my MSR 6L bladder and started to disassemble my pump and put it away. While pulling the intake tube off of the pump body the fitting broke. This is only the second time I have used this pump.

So I started thinking, by the time we cook dinner, have water to drink, and fix breakfast the next morning we didn't have enough water. At this point I was glad we had not gone to Willow Gulch. We would have been packing up camp and heading out.
We decided we would hike back to the car and go to the visitor center in Escalante to get some water. Jenny in her ultimate wisdom said, "as long as we are going to Escalante we may as well get pizza for dinner." OK! After getting water we went to the Escalante Outfitter and had one of the best pizzas I have ever eaten.
After dinner we hiked back to camp just in time for sunset.
After the sunset we sat in one tent and played card games for several hours. It is not very often in this busy time that you can sit with your kids and talk and play games without interruption. I look forward to more of these moments. On Sunday morning we quickly packed up camp and hiked back to the car for the return trip home.
This was Jenny's first backpacking trip and I think she had a good time. I don't think she enjoys tent camping very much but she goes along for her boys. I'm thankful for that and I hope it grows on her.
A few lessons to learn from this trip.
Don't pack so much in your backpack. Buy a smaller one.

Have a backup water purification method.

Buy a backpack that fits (adjust).

Don't take 4 people camping in a Honda Civic. (get a truck)
I'm just learning to use Adobe Lightroom 4 Develop module so any tips would be helpful.
Featured image for slideshow: