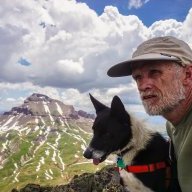 Joined

Mar 6, 2014
Messages

572
I have a very short list of hikes I might never repeat. This one got added! Why? Brush! Too bad, because I love wild and remote places like this where nobody hardly ever goes.
Followed
@Bob
's track from here:
http://backcountrypost.com/threads/fable-valley-bowdie-canyon.2787/
It ended up being a 10 hour day: 15 mile bike ride to and fro the TH, the last half on a nearly decommissioned track, plus the loop hike of about 13 miles.

Arch near the confluence of north and south fork


Bypassing a section of dryfalls, massive potholes and this unique 'portal'.


Lots of this, but worse.


But also some redeeming qualities.


Skotti can't wait to see if this side canyon exit goes!
Featured image for home page: