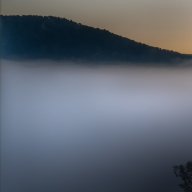 Joined

May 19, 2012
Messages

1,923
I had done the Lower Black Box a few years before and really enjoyed it, so we decided to try the Upper part. It was a long hot day, capped off by a few miles of water and blessed shade. The first part of the hike is through beautiful if un-spectacular terrain. I always try to enjoy the entire route, even if it is ill advised due to the sun and heat, which was over 100. So we took our time, knowing we had into the evening to finish. Resting at every shady spot, it took us about 6 hours to get to the narrowing of the canyon and the slog/bouldering/swimming- great fun, and nice and cool (80 degrees!) with the water in the upper 70's I would guess. There were sections where you could just float on my back with my pack giving me buoyancy, and space out at the walls and the thin slice of sky. The famous "obstacle" was nothing at our trip, I down climbed to the right LDC. We left a moutain bike near the take out, and the most fit, youngest team member volunteered to ride the 4 miles or so back and get the car. Admirable after 13 or 14 miles.
The last stretch of the hike is the best part.
Where we joined the canyon.
aaaaahhhhhh, shade.
At the drop, down climb was to the left, do not jump this!
These were taken with my Kodak 3mp point and shoot, so please excuse the quality.
Greg