Driving down Hole-in-the-Rock road the Straight Cliffs dominate the view to the west all the way to Glen Canyon. Most folks are more interested in the slick rock and the canyons to the east of Hole-in-the-Rock road, while some are interested in just driving to end of the road to see the Hole-in-the-Rock.
I confess, I was too. My eye was drawn to the views of the Straight Cliffs stretching off to the horizon and my mind wondered what was up there, but it was for the canyons that I had traveled from a far to see and explore.
Having driven Croton, Smokey Mountain, Smokey Hollow roads I thought I had an idea what the Kaiparowits Plateau was like. Still I was curious enough to start researching routes up the southern end of the Straight Cliffs and on to the southern end of the plateau which has been referred to as Wild Horse Mesa or Fiftymile Mountain, or just lumped into the rest and called the Kaiparowits Plateau.
The southern portion is a large plateau running almost 15 miles from North to South and never wider than 5 miles from East to West. People are scarce up there, you might see the rare Hayduker passing through if your near the northern end or the equally rare hiker heading out to Navajo Point to see the the views across Glen Canyon and Lake Powell to Paiute Peak. (Sure, most people call it Navajo Mountain but the Southern Paiute claim to have lived there first and where there even while the US Government turned the area into the Navajo reservation.) Who you are mostly likely to see up on the plateau are the cowboys that run cattle up on the there.
The easy way up the plateau is by one of three trails reached by driving up Fifty Mile Bench road from the Hole-in-the-Rock road. There is the Lower Route on the southern end mostly used to reach Navajo Point and East End Spring. Then further north is the Lake Route that seems to be used mostly by cowboys and people wanting to bag the High Point of the plateau. Further north is the Middle Route (go figure?) that is used by people doing the Hayduke and, probably, cowboys.
In June of 2020 in grip of a deadly heat wave across the west I climbed the Lower Route and hiked 9 miles or so to East End Spring where I setup a basecamp and spent a few days exploring before hiking back out. With temperatures reaching 100 degrees I never seemed like I had enough water to drink and was thirsty for most of the trip.
Then I was back in January of 2021 when I day-hiked up and down the Straight Cliffs three times in three days where the temperatures never made it above freezing and the lows were in the single digits. With an elevation gain of 900 feet, it is quite a climb and it is compounded by the fact that you start at over 6000 feet and climb up to 7400 feet above sea level, which led me one day to try to find my own way down instead of walking miles back to the trail. If you ever find yourself in that predicament do the smart thing and go back to the trail! It was the stupidest, most dangerous thing I did in my life!
In the summer of 2021 I was back at the Lake Route for another multiday trip up on the Plateau. This time it was a five mile hike across the plateau to Pleasant Grove Spring where I again setup a base camp and spent a day or two hiking around. While not as hot as the previous summer, it was still a challenge having enough water. Pleasant Grove Spring was just a tiny seep and my filter was quickly becoming clogged with the really fine sediment in it so I decided to pack up and head south to Pool Hollow Spring to see what it was like there. From there I figured I could head on down to Tank Hollow Spring before hiking out. It turned out that the water was unusable at Pool Hollow Spring and not being sure what Tank Hollow had to offer I decided to bail out since I was down to less than a liter of water and Tank Hollow would take me miles further from my car.
Here are some pictures...
Leaving after work only gives me a couple hours drive time the first day and I will camp out in the desert along the way, like here on the Black Rock desert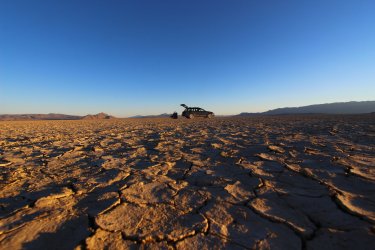 You have to stop and check out sights along the way, right? Here are the charcoal ovens and ruins of the old mining town of Frisco.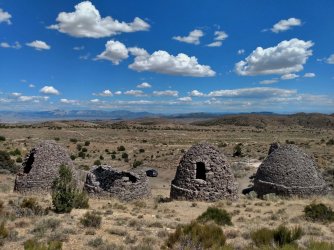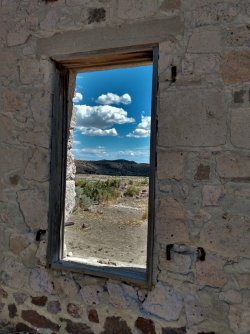 Campsite up on Fiftymile bench in January. Lucky for me it was a light snow year.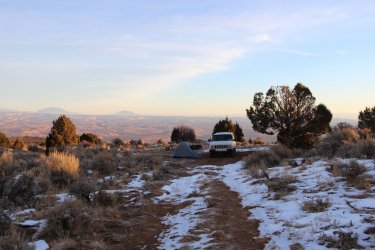 A cold night in the tent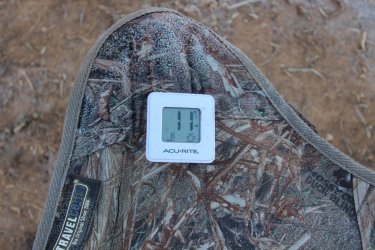 Trail up in the summer and winter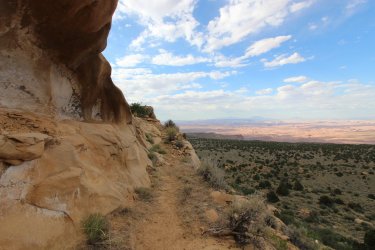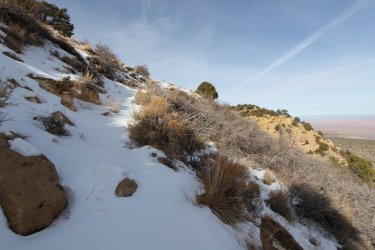 Random views from the top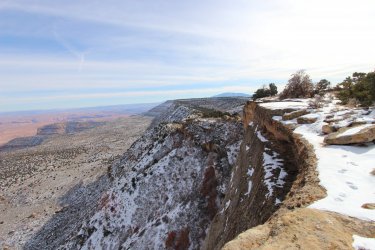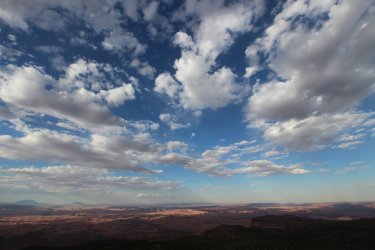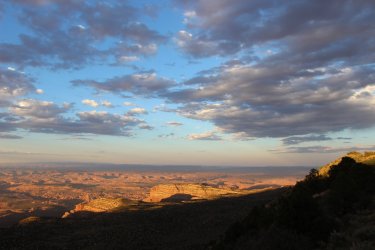 East End spring, there was water here but it tasted horrible and left my mouth dry, I ended up camping about a quarter mile away from here so getting water was a ½ mile trip. The water was better at Pleasant Grove but there was so little of it, I had to scoop it out cow tracks and wait several minutes to refill. At Pleasant Grove Spring I also camped about a ¼ mile away but it also involved dropping down into a canyon about 100 feet or so and then climbing out just to get water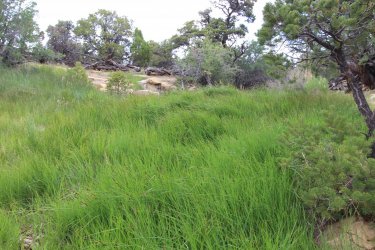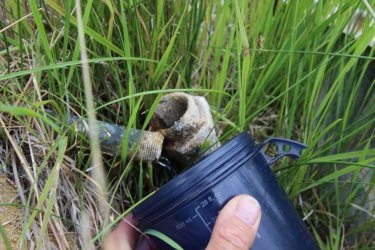 Life up here is tough, even for the locals.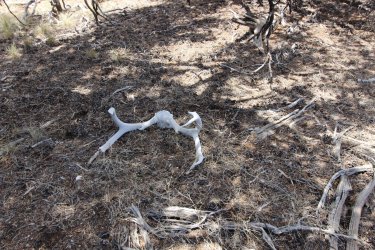 View across the vast Pinion/Juniper forest up on top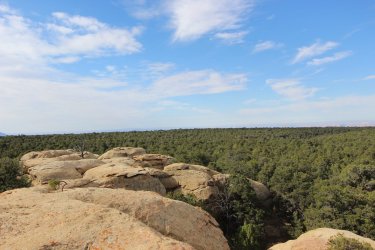 Signs of ancient humans. This sight doesn't look like much but the ceiling in the back was covered in thick soot from many fires.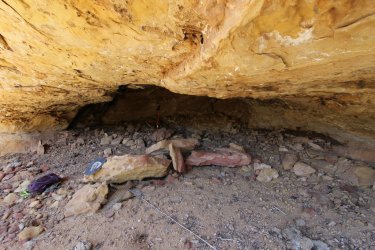 In that soot covered ceiling a stick was wedged in a crack...to hang food from, perhaps?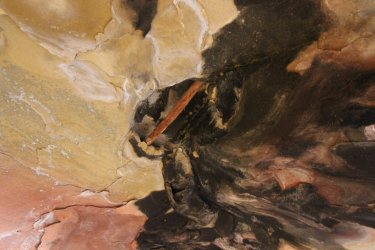 An old corn cob and metate....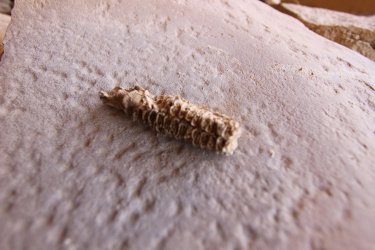 A lot of grooves on this large rock including the 2 of the front edge...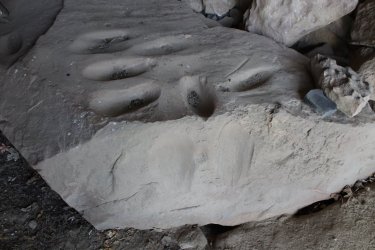 Several times I came across large areas with dozens and dozens of pieces of pottery strewn around.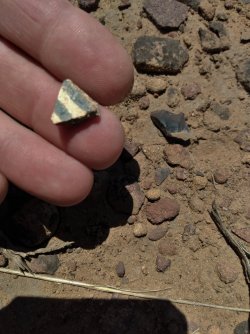 This was another interesting site here, there was area with sticks 'plastered' into holes and sticking straight out. There was 5 or 6 done like this and it looked like they just used natural holes and there is no pattern to the sticks.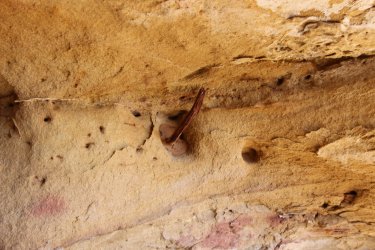 Another thought provoking site... this are all 'pecked' into a large flat rock, maybe they were going to smooth them out and grind something in them or they were for....?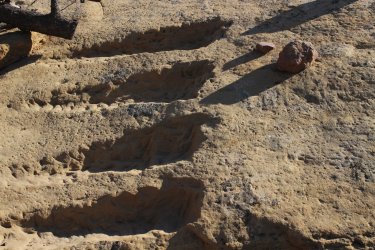 Water anyone? Lucky for me I did not have to drink this, I just had to cleanup with it!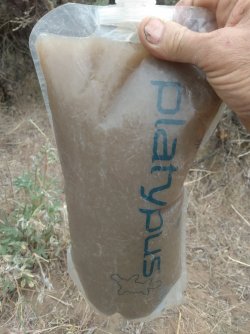 Pool Hollow Spring was infested with cows. These 2 had been trapped for a least a couple of days. I stripped down to my underwear to try to dig them out and all I was able to do was lower the water/mud level by 5 or 6 inches. I got a horrible sunburn on my back spending hours trying to help them. When I made it back to Escalante I reported them to the BLM since they would know the who the lease holder was for that area.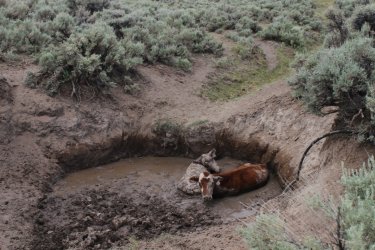 At some trailheads you have to worry about having your vehicle broken into or vandalized, what does this qualify as?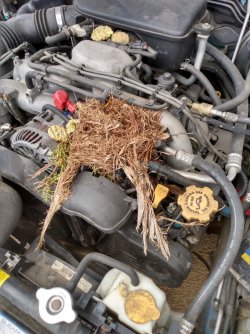 The drive home is always a great time to enjoy the scenery while cruising along 60mph, with heat and a/c at my fingertips and nothing on my back,,,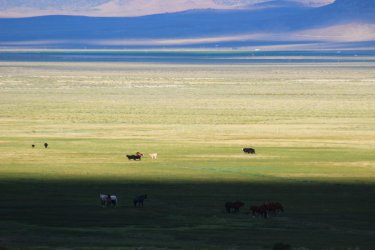 Looks like this plane tried to land on this (not so) dry lake and flipped over.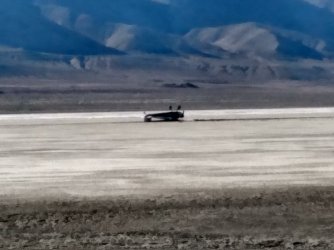 Or this Burning Man Vehicle abandoned on the Highway.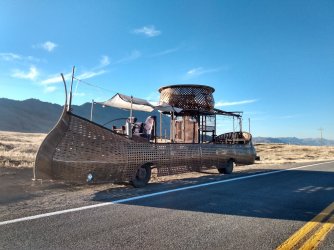 Now I can hardly wait for spring of 2022 to explore more of the Kaiparowits!
Last edited: