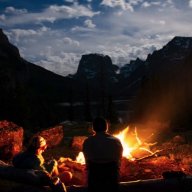 Joined

May 3, 2018
Messages

288
No video for this trip. I did take timelapses though that will end up in my annual video. Anyways, My Uncle flew out from Michigan to Washington for my wedding last year and loved the mountains here. He was eager to backpack as he has never done it but "has trained his whole life for it" (he plays hockey still and walks a route for the postal service). I wanted to show him the western slope of the cascades, eastern slope and what 0 light pollution looks like (Pasayten Wilderness).
Trip #1: Overnight backpack | Ptarmigan Ridge to Mt. Baker Portals
Trip #2: Front country (sort of) after sight seeing HWY20 | Cowboy camp on top of Slate Peak to stargaze
Trip #3: Overnight backpack | Wing Lake from Heather-Maple Pass Loop
TRIP #1
Off to Ptarmigan Ridge from Heather Meadows. Baker in the distance.
Shuksan to the rear.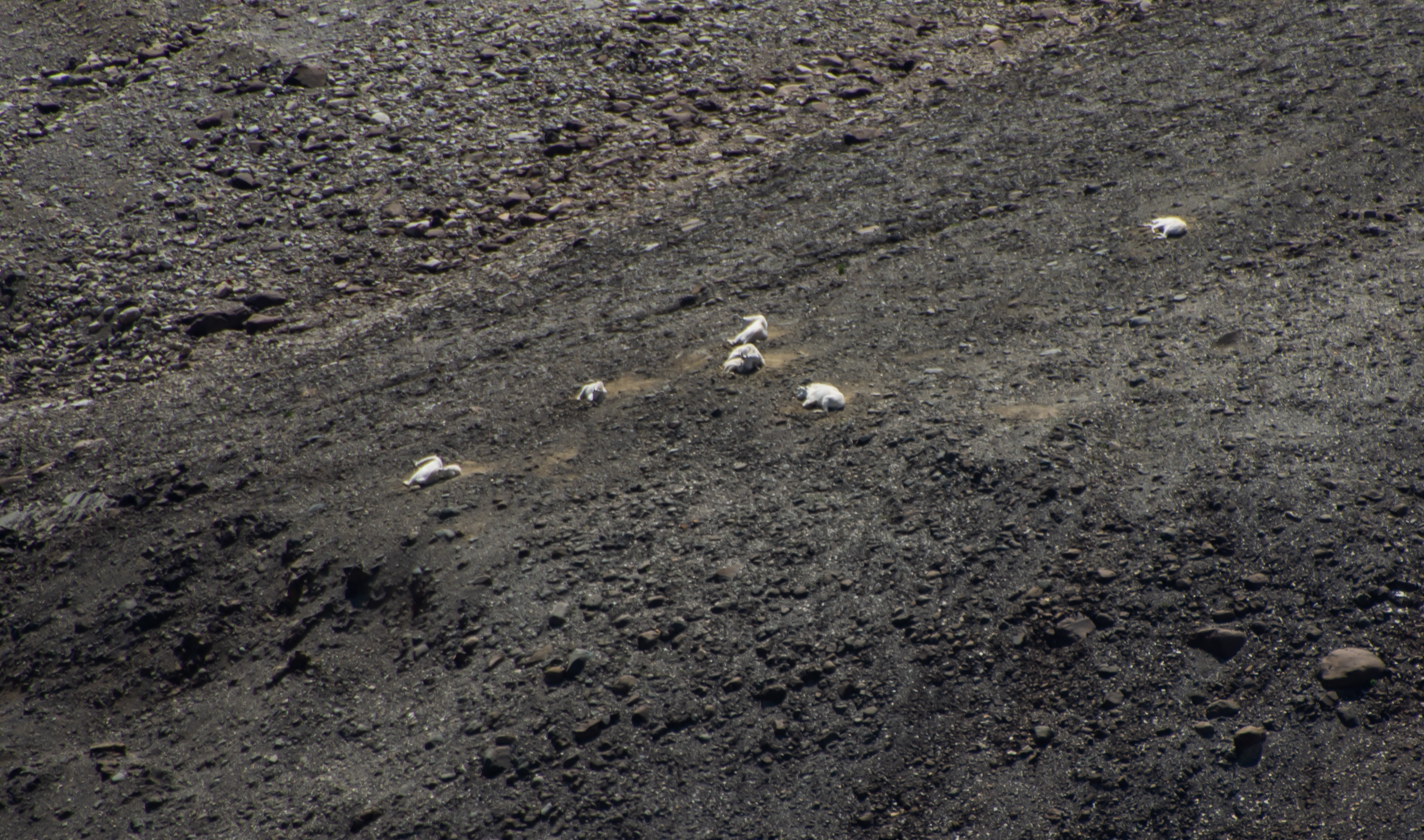 Goooaaats
Baker towering over the approach. We will be camping in the lined notch between the two snowfields on picture center right. (Same spot as my solo video of this area last year)
My uncle borrowing Lacey's old pack (fits him much better than it did lacey). GO WINGS
Side trip to a cool lake. Ran into some horseflies here. Last year at this same time when I did my solo here this lake was still half covered in snow/ice. It's all but thawed out this year.
Last of the wildflowers in the area as they slowly start to go out of season.
Up on the portals! Meshed panorama of the view.
We set up camp and moved back to the top of the portals to relax and sight see a bit.
Marmot was interested in us.
He was loving the views.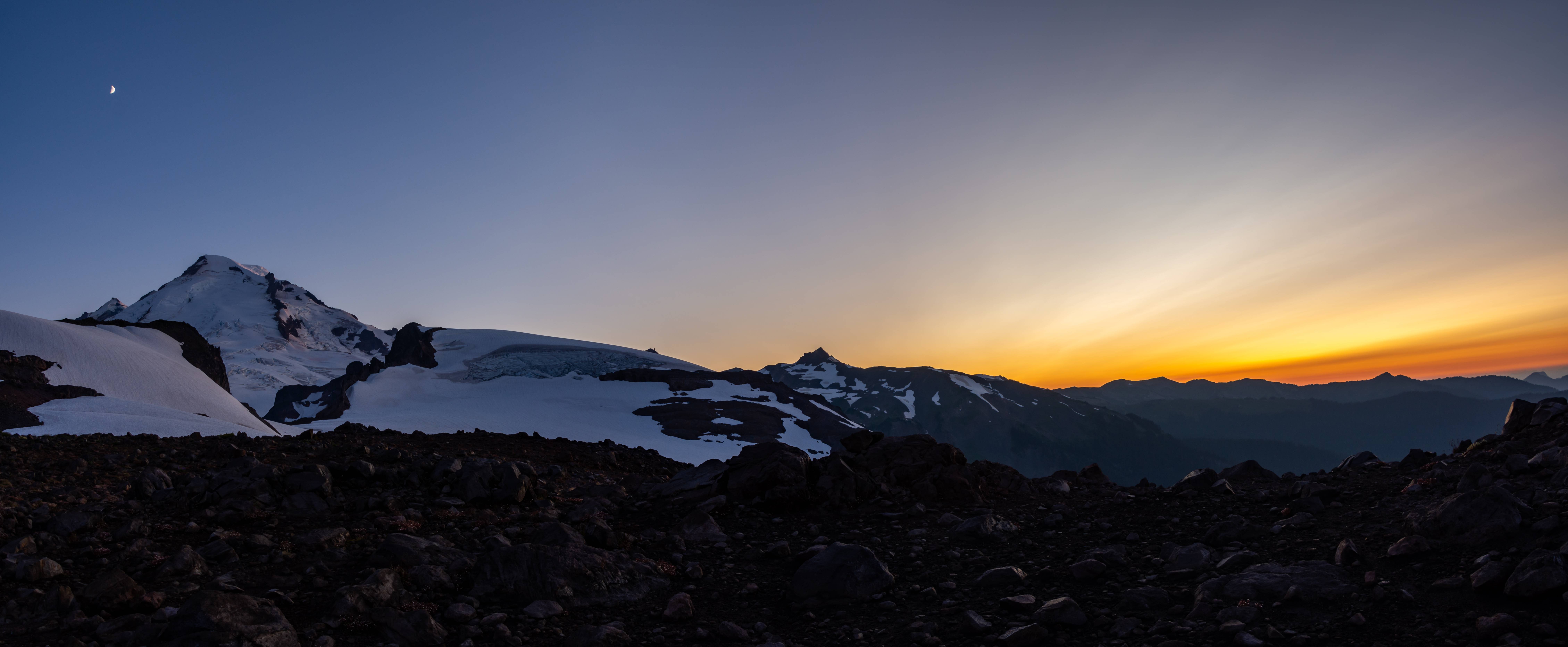 Sunset. "Moonset" was around 11pm so the stars popped out hard around that time.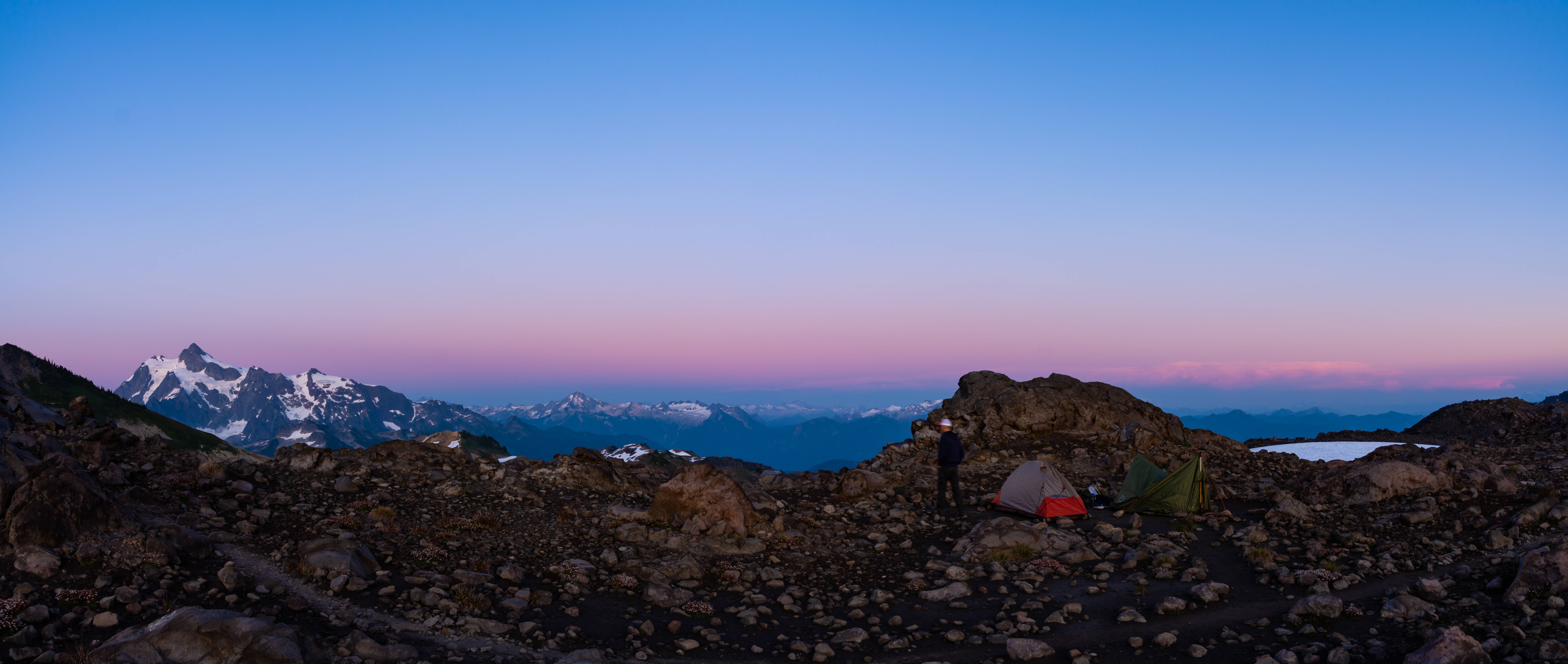 Camp. Same spot from my solo trip. I was giving the trekkin pole tent another shot. If you remember my late spring TR for Tiffany Mountain, my wife and I criticized the hell out of the tent. In short, it did much better in warmer weather. It advertises as a 3 season tent but I'd just use it for summer.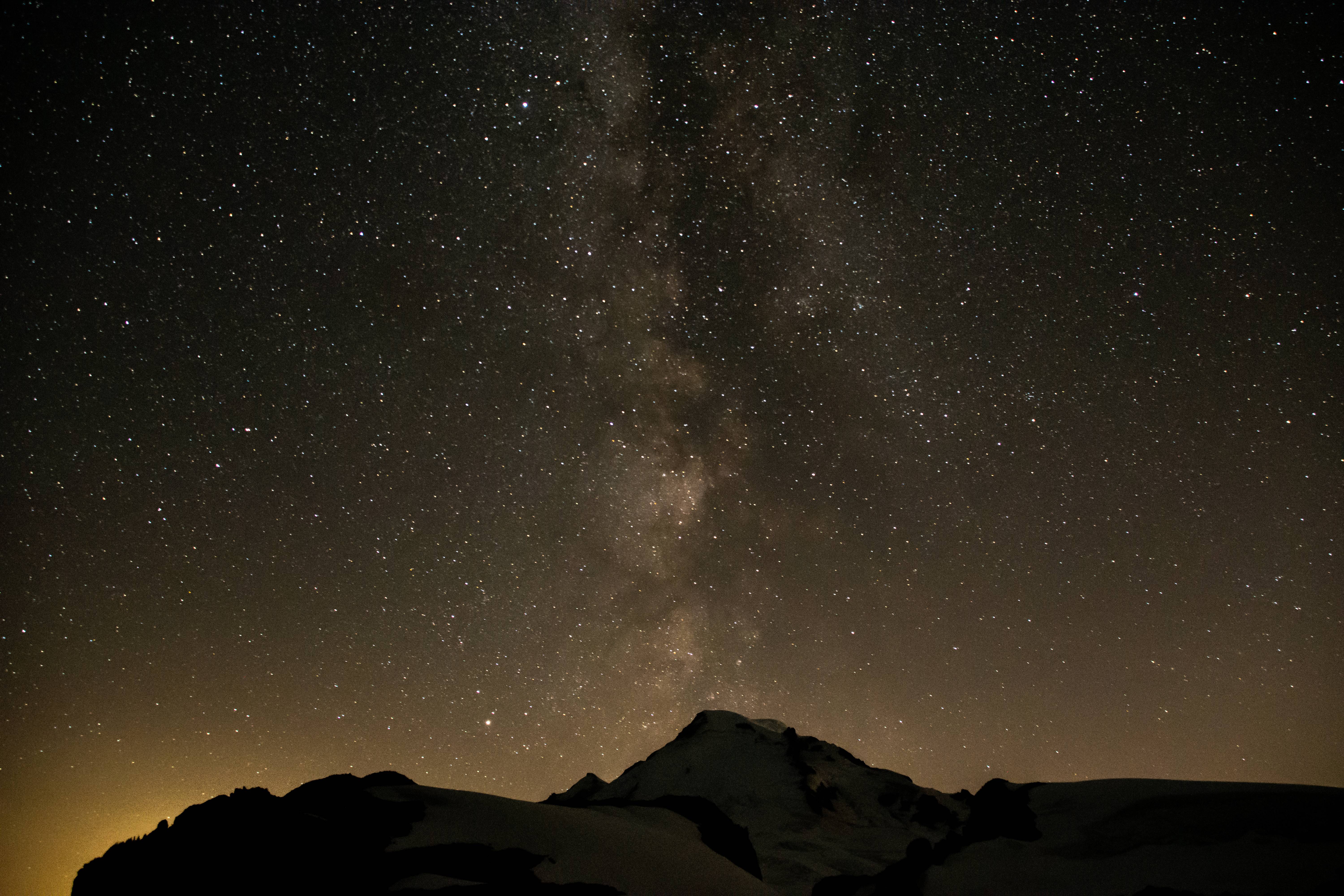 Milkyway over Baker. Light Pollution from Concrete and sedro behind baker. He was much more excited to stargaze but I had trouble as I was battling trying to stay awake. Mainly because I knew the stargazing grand finale would be the next night!
We retraced our steps back to the truck. My uncle loved the first night of the trip and was awe-struck by the cascades. He hasn't left michigan or the city much so in his own words "It's hard to believe there are places like this on earth, it looks so alien!"
TRIP #2
We drove HWY20 and did our sight-seeing along the way, roadside touristy stuff. In mazama we branched off up Harts Pass
Drove through deadhorse point. This is a video of me driving it this april. My uncle thought it was gnarly they had roads with drop offs like trails out west. At no point during the drive did he take his eyes off the window.
On top of slate peak. My truck down below. We hiked up our backpacks, lawn chairs and a 12 pack. Ready to watch the sunset and stargaze!
And there is the night sky I was excited for! We used the radar building which was next to the closed lookout tower as shelter from the wind. Made cowboy camping easier and really pleasant.
Morning! Off to wing lake for the final night. We saw a metric ton of satellites and shooting stars.
TRIP #3
Wing Lake. This was a little tougher as the elevation gain is close to 4000ft but my Uncle did great. Walking a postal route and playing hockey every night has kept him in better shape than most 20 year olds I've seen.



Up Heather-Maple Loop pass. Above Lake Ann.


Bear! On the other side of Lake Ann. Doing bear stuff. It was awesome that we got to see a bear on this trip.


Heather Pass. We leave the crowds from the loop and continue on a well treaded mountaineering trail to the base of Black Peak where Wing lake sits.


We will be camping at a hidden lake on the other side of the thing remaining trees right below the big peak (Black Peak). We will stick to the left to reach our goal. Some sections of the trail are visible. The lake that is visible is Lewis Lake.

In my infinite wisdom I didn't bring my whole camera bag and only brought 3 camera batteries thinking it would be enough. It wasn't. So I was on my last battery and had to conserve. I didn't even get a picture of Wing Lake! I thought I did, I'm sure I snapped it. But it just wasn't there in the memory file. It got sunset at least!
Working our way around Lewis Lake.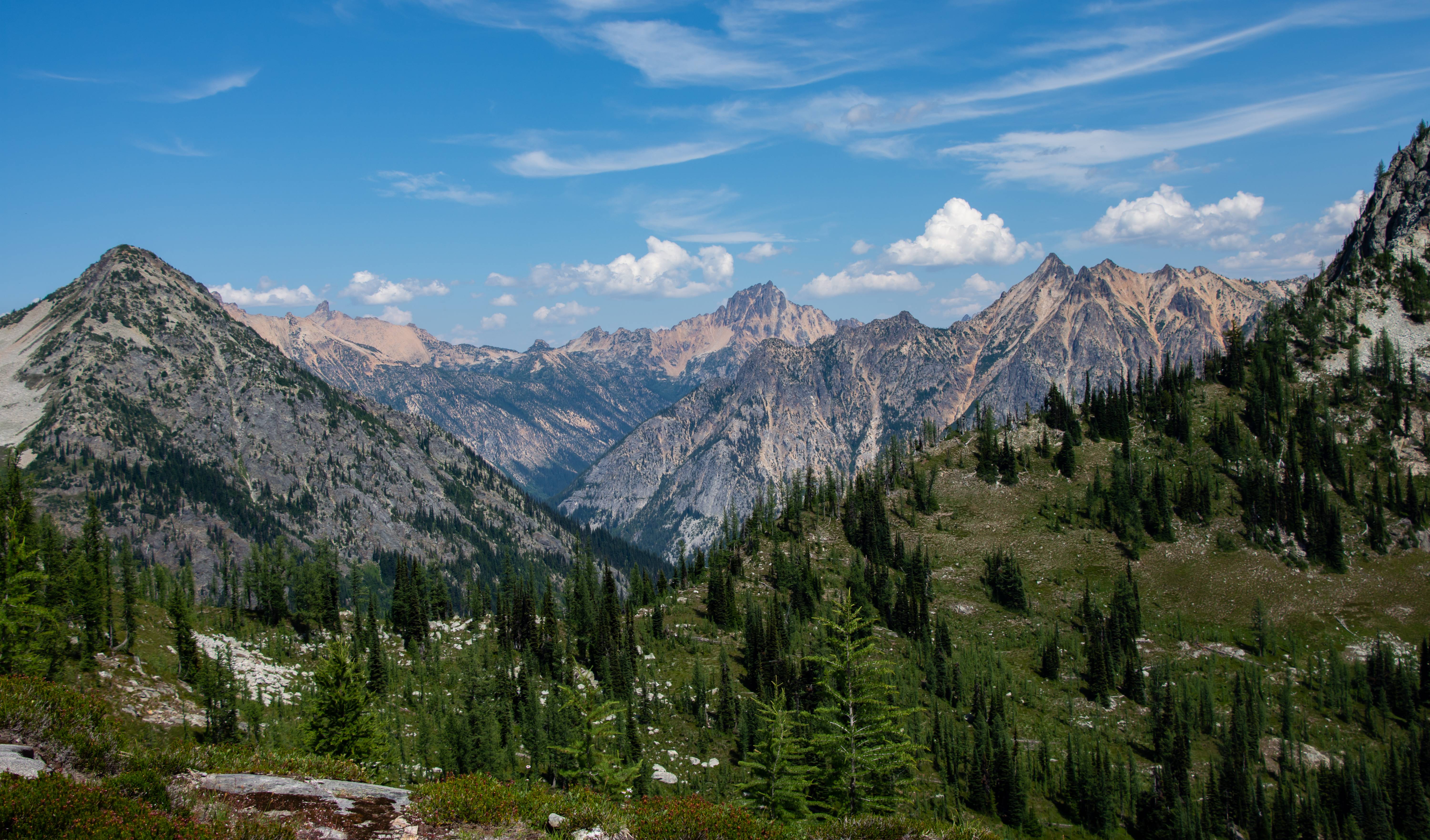 Gaining elevation.
Filtered some nice cold water here. Tasted amazing.
Our view from camp. Lake is off to the left. Super frustrated my camera didn't keep the lake photo I got.
Storm clouds coming in gave the sunset an amazing color! Got some rad timelapse footage that I can't wait to use in the annual timelapse video.
Black Peak at sunset.
Amazing trip. My Uncle already wants to come back out for another trip next year. I'm thinking mid-june in the Olympics for the next one!