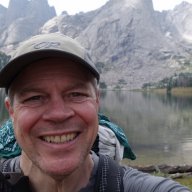 Joined

Apr 7, 2019
Messages

4
Hey Everybody,

New member here. I have been backpacking for 50 years, off and on, and am extremely blessed to live in NW Montana with access to GNP, "The Bob" and many other awesome places to explore.

Recently, I've begun making a Utube video tutorial series aimed at helping people who are either new to backpacking, or 'traditional' backpackers interested in lightening their load without being fanatical. The goal is not to simply carry the lightest possible pack, but rather to increase the ability to enjoy being in the wilderness by decreasing pack weight. Also, I want to help people overcome any anxiety they may have about backpacking in general, or going ultralight.

Currently, this is an entirely altruistic endeavor, intended just to be helpful, but wasn't sure whether such a link would be allowed and didn't want to violate policy with my first post! If it okay, I'd love to share; if not, then I'll just say, "Howdy" and glad to be a part of this community (seems like friendly folk!)
Thanks!