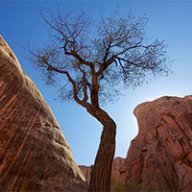 Joined

Aug 9, 2007
Messages

12,927
August 2009
We spent 5 days and 4 nights on this trip and logged 32 unique miles of trail on the big loop, one of the nights was car camping near the trailhead. We started and ended at the Swift Creek Trailhead in the Yellowstone drainage. We made a big loop by heading up through Swift Creek, over Bluebell Pass, a night at Milk Lake and then the long hike along Yellowstone Creek to get back to the Swift Creek Trailhead.
The first day was tough. We car camped nearby which happened to be my then youngest dog, Patina's first camping trip. She kept us up all night long obsessed with all of the noises around. Add to that that the fact that we would be putting down about 9 very rugged miles and gaining 3000 feet and it was a tough day.
Here is a very approximate map of our route. I didn't save GPS tracks so this is just me drawing a line on Google Maps. Do not use this for navigation.
[parsehtml]
<iframe width="700" height="640" frameborder="0" scrolling="no" marginheight="0" marginwidth="0" src="http://maps.google.com/maps/ms?ie=UTF8&amp;hl=en&amp;t=p&amp;msa=0&amp;msid=214533597045798101523.00049c5693a11c36512de&amp;ll=40.667879,-110.393372&amp;spn=0.166663,0.219383&amp;z=12&amp;output=embed"></iframe><br /><small>View <a href="http://maps.google.com/maps/ms?ie=UTF8&amp;hl=en&amp;t=p&amp;msa=0&amp;msid=214533597045798101523.00049c5693a11c36512de&amp;ll=40.667879,-110.393372&amp;spn=0.166663,0.219383&amp;z=12&amp;source=embed" style="text-align:left">Milk Lake Loop - BCP</a> in a larger map</small>
</br>
[/parsehtml]
Driving into the Yellowstone drainage
Getting ready at the Swift Creek trailhead. This was my first trip out in my new Taco. Photo by Nate H.
The sometimes very tricky Swift Creek crossing, I think this was around 4 miles into the hike. It could be a real problem earlier in the year.
Patina getting swept down Swift Creek. Photo by Nate H.
Another crossing a mile or two further up the trail. This one isn't as bad. Photo by Nate H.
Patina and I, high in the Swift Creek drainage. Photo by Nate H.

Swift Creek pano
Descending into our unnamed lake. There was no trail for the last mile or so and this slope was a little tricky on our tired feet.

In the morning we discovered that some of Patina's paws had blown out a bit on the long hike in. She was not very happy and spent most of the morning sitting by the shore acting very sad and picked on. We almost pulled the plug and turned around here but we decided that I would carry her food and see how she hiked with just an empty backpack. I eventually ended up carrying her backpack too.
One of the many unnamed lakes we passed on our way to Bluebell Pass
Bluebell Pass in the distance. The name sounds so nice and fluffy, not really how it is in real life.
We ran into a group of cowboys on horses as we were hiking up the pass. Hate to say it because I know there are some really respectful horse people out there but these ones fit the stereotype, not friendly whatsoever, acted like we were on their land or something. And to top it off they didn't even share any of the beer they were drinking as they went past.
The view into Swift Creek from the Bluebell Pass trail
We tried to be nice!
We spent a few minutes on top of the pass but we were cut short by an approaching storm. We raced pretty fast to get down to lower elevation in the Yellowstone drainage.

The rain would come and go so we kept hiking but eventually the trail dissipated and we were route finding. After an hour or so of hiding under ledges and bushwhacking we finally found the correct route and were on our way back uphill towards Milk Lake.
The meadow just below Milk Lake
The first sight of Milk Lake and yet another storm, elevation 10,988 feet.
The fishing was slow but what we got was huge. The view was enough to make up for it.
It rained on and off all afternoon.

Alpenglow
The one fish I caught. Fortunately is was huge, probably still the biggest brookie I've caught up there.
Why having a short haired dog isn't necessarily a good thing. They get cold!
Nate and I doing a selfie on our way out of Milk Lake the next day
One of these has to be South King's Peak, not exactly sure which.
From Milk Lake it was all downhill. We were thinking about slamming it out all that day but we had another thing coming. This is a junction with a lot going on at what felt like halfway down.
After a very long stretch with no water we took a much needed break at a spring. On the map it looks like the trail is right next to the river but in reality you're up on a ledge 50-100 feet above the river for miles on end. Typically I would expect a lot of little creeks and such to intersect the trail but there was nothing. By this point it was hard work just to get my poor dog up and moving again after stopping.
We camped that night at a nice site above the river. In the morning we figured we would have about 3 miles left. After a couple of miles the trail finally made it down to the same level as the river. Sonny was desperate for a drink here and fell in while trying to scale down the big rock.
One of the few views from the long trail along Yellowstone Creek. 99% of the time you are down in the trees. I don't think I'll take this route again.
The last 3 miles turned into 5+ and we were finally done. 32 miles total, not bad for my one big Uintas trip of the year.