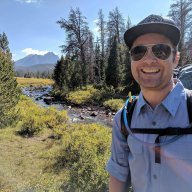 Joined

Feb 22, 2018
Messages

23
I originally planned on doing this loop solo, but with a change in circumstances, my dad was able to join me.
Day 1
We drove up to the trail head Thursday morning and arrived around 9 AM with no other cars parked yet. We made good use of the toilets and then headed off. I was surprised to find out there had been a fire out there, apparently started at the Scout Camp. Lots of dead trees standing still. The hike out to Priord started off pretty easy. A gradual uphill with lots of little stream crossings. I had to slow the pace after a little while. My dad is in decent shape, but he's in his 60's and doesn't hike quite as fast as I do. The trail was pretty good most of the way. We would occasionally lose it for a second or two through the meadows. Not much wildlife to speak of. A few cows about half way, but otherwise we didn't see much. As we passed by Norice Lake we lost the trails in the meadows. I blazed our own trail and the uphill was killing my dad. We took quite a few breaks and finally made it up to Priord Lake. I'm pretty sure there is probably an easier way to get there than the route we took. Oh well!
We had the lake to ourselves. As we sat staring at the "pass" trying to figure out the route we would take the next morning, my dad was feeling a little nervous. He is more a "trail" hiker and didn't like the idea of having to blaze our own trail up the pass. We did a little investigating and found the trail we would need to take up which helped him feel a little more comfortable despite the elevation we would gain the next day.
I have to say, Priord Lake at night was TERRIBLE. I didn't get much sleep because I felt like I was sleeping in a wind tunnel. I don't know if it was just back luck, or a bad spot, but we both didn't get a lot of sleep that night. Other than the wind, the lake was a nice spot. We didn't get invaded by cows like I know some have.
Day 2
Our goal for day was to make it to Deadhorse Lake. I figured that if it was too much for my dad in one day, we could camp on the other side of the pass. Usually, I like to get an early start, but with the time change for my dad coming from southern California, 7 AM was the earliest I could get him up. We were moving by about 8 AM. The trail starts out on a pretty steep little hill/mound. There wasn't much of a trail to speak of but there were trail markers everywhere that made it pretty easy to follow. About 1/3 to 1/2 way up the pass we lost the trail markers. I had a track of the "trail", which we attempted to follow and we eventually found the trail markers leading up again. It was rocky and slippery, but not too bad going up. We were at the top in about 1.5 hours.
Coming down the other side was much easier. Once down the other side we couldn't find any trail so we just used the GPS to direct us as close to where it "should be" as possible as we made our way toward Deadhorse pass. About half way to Deadhorse pass we saw some elk running away from us. Our first and coolest wildlife sighting of the trip. While meandering off trail we also ran into a giant tarp. I'm not sure what it was being used for or by whom, but we left it alone.
We stopped at Ledge Lake for lunch and a nice break. We were both a bit tired at this point. We had found the trail a while back which had made for some faster traveling. Towards the end of lunch we saw some dark clouds threatening and decided we better pack it up and get over the pass. There looked like some rain in the distance heading our way. Heading up the pass was tough work. My dad was a bit worn out at this point, but the clouds kept him moving at a steady pace. Next came the worst part of the trip. Hiking down Deadhorse pass. It was slippery and we were both a bit tired. The clouds had overtaken us, but there wasn't any rain, lightning, or thunder so we took our time down the pass. A bad slip would not have been a fun experience. We made it down safe and right after setting up camp we received a light sprinkling for about 5 minutes and then the clouds moved on.
Deadhorse lake was my favorite destination of the trip. We had a few groups nearby but it was nice and peaceful for the most part. One of the groups started flying a drone for a bit, which was obnoxiously loud. Thankfully they didn't use it for more than 10 minutes or so.
Day 3
Day 3 was our easy day. It was pretty much all down hill without any passes. We started seeing more people passing us going the other directions. We received some light sprinkling and had a muddy crossing where the stream goes through what looked like a bunch of wooden cattle fencing, otherwise the day was somewhat uneventful.
We basically hiked all the way to the beginning of some trail head. I can't remember which one. We crossed the stream there and found a nice camping spot just past a meadow. We got here pretty early in the day, but my dad didn't want to go any further because it looked mostly uphill from there and we weren't sure we would be able to find a decent stopping spot near water.
Day 4
The plan for day 4 was up and over Dead Man's pass and back to our starting point. Camping so close to a trail head was sort of a downer for both of us. We both were kind of wishing we were done there. I think this may have been the hardest day for my dad. He was starting to get a little tired from all the hiking and there was a lot of uphill. We took it slow and took a lot of breaks for him. This part of the trail you could tell wasn't used a lot. There were quite a few downed trees across the trail that required some maneuvering for us to get past them. As we got closer to Dead Man's pass we ran into someone out Elk Hunting. He was a nice guy and offered us some coffee but we were excited to keep moving so we left him there. Heading to the pass we kind of took our own way again. The trail eventually runs into an ATV road that we ignored for part of the way. Hiking up the pass wasn't too bad. It was warm and we were tired, but we set a steady pace and got up pretty quickly.
The rest of the trip from there was downhill and not too bad. Coming down the ridge back to the trail head did provide some nice views.
Overall, it was a fun trip. At times I wished I could move a little faster, but it was worth going slower to be able to spend time with my dad in the back country. I think I would definitely like to visit Deadhorse Lake again. Maybe start out there and head over to Red Castle. Something like that in the future.
Last edited: