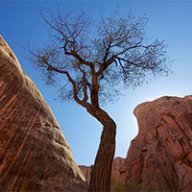 Joined

Aug 9, 2007
Messages

12,940
I'm seriously thinking about doing the entire Uinta Highline Trail this summer. The full 85 mile version from Leidy Peak all the way to the Mirror Lake Highway. I had originally put it on the calendar but reconsidered because of the needed time off and my desire to spend more time in The Winds. But the more I think about it the more I think I have to do it. I'm thinking it will be a solo trip as it would be pretty tough to round up anyone to do such a long, brutal trip. And even if some people were interested, I would want to make 100% sure they were physically ready and really easy to get along with since I'd be stuck with 'em for a week.
Has anyone here done it? Any advice on planning it? I've laid out my tentative plan. I would allow myself 9 days to get it done but shoot to do it in 7 or less. The extra two days would give me time to wait out storms or be slower than expected. I figure if I were solo, I would actually end up doing it faster than expected though as I would have more of a tendency to just keep hiking.
Also, what do you guys think about timing it? I was originally thinking the first or second week of August but since the snow is so low this year, I figure I could even do it in July this year.
What would be the best moon phase? I guess a bit of moonlight might make me feel a little better at night since I could see around. But a new moon in the mid-summer Uintas can be quite the sight with the milky way.