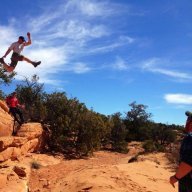 Joined

Feb 20, 2018
Messages

4
I and 3 other buddies from Iowa go on a backpacking trip every year for the past 9 years. We have done a variety of hikes, 5 years have been in Montana, 3 years in Colorado, and 1 year in Canyonlands Utah.
Our trips have been varied in length and difficulty ranging from 60 mile round trip in a week moving camp everyday, to 10 miles out one day then stay in same camp for 4 days and do exploring day hikes.
Uinta's have been on my radar for last couple years and this is the year I want to plan our trip there, or will gladly go somewhere else there are good recommendations. We are willing to drive 20 hours one way if necessary – with 4 guys driving only 5 hrs driving each.

I do the the trip planning every year and this is the first site I have joined seeking information. It's a real struggle figuring out good places to go doing it from the computer in Iowa.
We always seek out a secluded hike where we see few or no other people. Seeking a hike 10-18 miles one way, to a location with large ridges to follow and easy exploring with vast views from some accessible peaks. Along with a good selection of fishing lakes to jump around on. We will be going in July or August.

I saw some posts about Gladys lake, which looks great, but I fear running into too many people.
Would you have any suggestions of other hikes that fit what we're looking for?
We take the principles of `Leave No Trace` quite seriously and always are good stewards of the land.
Very new to the site and will appreciate any suggestions you all may have.
Let me know if I can provide any more information.
Thanks!