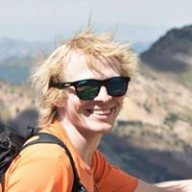 Joined

May 16, 2017
Messages

43
Back in September I got a text from
@LarryBoy
, asking if
@Capsnack
and I would like to join him on his attempt of the "Uinta Highline Trail Deluxe Edition". His intended route traverses the range from East (Leidy Peak) to West (Hayden Pass) following the Highline Trail. However, in sections where the Highline Trail runs below tree line, the Deluxe Edition travels off-trail along ridge lines to stay as high as possible. The weather forecast was unusually stable for the High Uintas, with a perfect weather window (except for high winds) for a four-to-five-day trip. We immediately knew it was going to be a good adventure one simply can't say no to. Here is the trip report:
Day 1:
After a long drive and a short, stormy night at the Leidy Peak trail head, we started our journey and quickly reached our first objective, Leidy Peak. From there, our plan was to follow the ridge all the way to Divide Lake where we would set camp that night. Despite the somewhat high winds, we made good progress and soon summited MOUNT UNTERMANN (what a great opportunity for
@LarryBoy
to work on his "Angry German" accent) and Eccentric Peak. Along our way, we enjoyed sublime views that one only gets when sticking to the ridges instead of meandering through the "low country" on the Highline Trail.
We made our way along a series of cirques, the terrain getting rougher and travel slower. Relentless 60-70mph gusts almost blew us off our feet multiple times.
We rejoined the Highline Trail after roughly 20 miles of off-trail hiking at North Pole Pass and made our way down to the more sheltered terrain at Brook Lake where we set camp for the night.
Day 2
The agenda for day two was to follow the obvious ridge to Gilbert Peak and set camp in Henry's Fork somewhere near Dollar Lake. However, none of us had attempted this section before and satellite imagery suggested that the section just East of Gilbert Peak might be somewhat exposed. Since the winds were still hauling in the morning, we decided to abandon our initial plan and stick to the Highline Trail. This would allow us to stay almost entirely below tree line until we reached Painters Basin, giving the winds a chance to die down.
Bailing from the intended route was the right decision, but still somewhat unsatisfying for all of us. On the way to Anderson Pass, we reflected on the fact that we would at least get to experience the different facets of the Uintas: windy ridgelines, breathtaking basins, and moderately well-maintained trails below tree-line that made trail miles not much faster than off-trail miles. Thus, we renamed our adventure the Uinta Discovery Trail (UDT, since: "Is it REALLY an adventure if it doesn't have an acronym?").
Obviously, the UDT would not be complete without King's Peak, Utah's highest point. It was only a short detour from the pass and neither
@Capsnack
nor I had been to the summit. It sure was worth the effort:
That day, we set up camp in Yellowstone Basin as the sun was setting. Watching the last light of the day hitting the west face of King's Peak was magical.
Day 3
We started our third day by climbing over Tungsten and Porcupine Pass.
From Porcupine Pass, we followed the Highline Trail and shortly dipped into the trees west of Lambert Lake. We made our way over Red Knob Pass, which according to
@Capsnack
should have a five-star review on Yelp, enjoyed views of Mt. Beulah, and set camp at Dead Horse Lake.
As we were falling asleep in our tents,
@LarryBoy
reported the sighting of a white, dog-like creature walking past our tents, sniffing on the ground. Since
@Capsnack
and I hadn't seen the creature, we thought he was trying to scare us. A few minutes later, howls rang across the valley. The "mystery wolf", which turned out to be a dog belonging to a party camped close to us, surly kept me awake for a while that night.
Day 4
On the morning of day four, we climbed over Dead Horse Pass and parted once again from the Highline Trail. Following more or less well-maintained trails, we contoured Rock Shelf basin along a series of lovely alpine lakes. We briefly rejoined the Highline Trail to climb over Rocky Sea Pass. These were our last steps on the official trail which stays entirely below tree line from Rocky Sea Pass until its western terminus at the Hayden Pass trail head. Instead, we contoured north towards Naturalist Basin and climbed up to the obvious low point on the ridge east of Mount Agassiz.
Climbing the pass turned out to be surprisingly straightforward. The same cannot be said for descending the loose scree slopes down into Middle Basin where we camped for the night.
Day 5
Only one more climb separated us from our car, the somewhat intimidating Hayden Pass.
@LarryBoy
had climbed the pass from Middle Basin before and assured us that the up would be relatively straightforward. The views from Hayden Pass were jaw-dropping and it certainly made for a worthy end of the UDT.
We knew that coming down Hayden pass on the other side is possible, however, we didn't know if it would be doable with packs on. We followed a reasonably well cairned route through the cliff bands until we reached a short fifth class section. Since we all are used to scrambling in exposed terrain, had light packs and a rope to lower them, this wasn't a big obstacle.
The last 1.5 miles to our car were fun boulder hopping and a little bit of bushwhacking. Apparently, there is a maintained climbers trail through the trees to the trail head, but we never found it. We reached the car around noon that day, just as clouds started building. Hiking
@LarryBoy
's Uinta Discovery Trail was a special treat only possible due to an extended window of unusually stable weather. Thanks for letting us tag along!
Last edited: