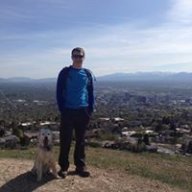 Joined

Aug 4, 2014
Messages

1
Just trying to get some feedback on some possible car camping sites I have picked out. The plan is to take my girlfriend and dog out to the Uintas right after work on Saturday, setup camp, enjoy the evening and then in the morning spend several hours hiking then head home and be back in Salt Lake City around
5pm
. I don't get off work until
6pm
on Saturdays so I need to find a place that is 2 or 3 hours from Salt Lake City. Other than that here is what we are looking for:
Private- hopefully no ATVs and very few, if any, people but I know that is going to be tough with not wanting to backpack in
Good campsite close to where we will be parking (heavy gear)
Very scenic hiking close by for the following morning (plan to spend several hours hiking)
Want to be at high elevation to beat the heat
Able to have a campfire (have a propane fire pit so not a deal breaker)
Here are 4 spots I have picked out with the help of google maps. I've never camped in the Uintas so I am obviously open to suggestions and am really looking for feedback if the places I picked out will work for what we want to do. If you suggest a place please give me info as to where to find it on google maps. Also I have a Dodge Dakota 4x4 (assume this counts as HC 4x4?) Okay here are my possible spots:
Camp near Hoover Lake at the end of road 137 and spend the next morning hiking the nearby lakes
Camp near Whiskey Island Lake at the end of road 711 and spend the next day hiking to Fish lake and Sand Lake
Camp off a road by Whitney Reservoir- not sure if this will be close enough, private or have good hiking for the next day??
Camp near Castle Lake at the end of road 406 and hike to East/West Shingle Creek Lakes- just assuming there are trails to hike from Castle Lake to East and West Shingle Creek?
And Actually I am just assuming there are trails to hike all the areas I have listed, so info on that would be much appreciated. Thanks in advance! Really hoping to have a good time and make us want to go back for a more involved backpacking trip!